In 2009, the History Channel created a documentary, entitled "Day After Disaster," to address the scenario of a suitcase nuclear detonation in a major metropolitan city. On 9 April 2014, Craig DeAtley revisited the topic in an article, which was followed by a DomPrep poll to help review the preparedness level of the nation for such an attack if it were to occur today. The following panel discussion brings together five subject matter experts – including three from the 2009 documentary – to address the gaps as well as the progress in nuclear preparedness over the past five years.
Narrated by the panel.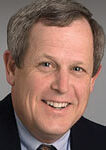 Craig DeAtley, PA-C, is director of the Institute for Public Health Emergency Readiness at the Washington Hospital Center, the National Capital Region's largest hospital. He also is the emergency manager for the National Rehabilitation Hospital, and co-executive director of the Center for HICS (Hospital Incident Command System) Education and Training. He previously served, for 28 years, as an associate professor of emergency medicine at The George Washington University. In addition, he has been both a volunteer paramedic with the Fairfax County (Virginia) Fire and Rescue Department and a member of the department's Urban Search and Rescue Team. An Emergency Department PA at multiple facilities for over 40 years, he also has served, since 1991, as the assistant medical director for the Fairfax County Police Department.