In 2012, Amtrak created the Emergency Management and Corporate Security (EMCS) Department, which focuses on emergency preparedness, continuity of operations, and corporate security risk strategy. EMCS promotes Amtrak's security and safety goals by focusing on preparing first responders on how to respond to passenger train emergencies. It is imperative that the more than 26,000 emergency response agencies along the Amtrak rail system understand how to best respond to incidents involving passenger trains.
Amtrak follows the Transportation Code of Federal Regulations' Passenger Train Emergency Preparedness (49 CFR Part 239), which focuses on reducing "the magnitude and severity of casualties in railroad operations by ensuring that railroads involved in passenger train operations can effectively and efficiently manage passenger train emergencies." To meet these preparedness regulations, as set forth by the Federal Railroad Administration, Amtrak conducts Passenger Train Emergency Response (PTER) trainings for employees and external partners for stakeholders in its widespread service area – 46 states, District of Columbia, and three Canadian provinces.
Emergencies on passenger rail cars and equipment require special knowledge, preparation, and training. Amtrak currently has 11 regional emergency managers across the nation who help prepare the first responder community for emergencies along America's Railroad®. These regional emergency managers use the five core competencies of the Incident Command System to provide instruction during train incidents and emergencies: assume position responsibilities; lead assigned personnel; communicate effectively; ensure completion of assigned actions to meet identified objectives; and assume position responsibilities.
The PTER course provides first responder agencies – law enforcement, fire, emergency medical services, healthcare, emergency managers, public health, public works, government agencies, private sector, and anyone else who may have to respond to a rail incident – specific knowledge on how to ensure responder safety by providing information on a variety of topics related to railroad safety, including:
Railroad right of way dangers and safety concerns
Safe evacuation of passengers, including those with functional needs
Mainline switches (remotely controlled)
Passenger and freight railroad relationships
Emergency phone numbers
Average frequency of passenger and freight trains
Maps and schedules
Passenger loads
Train speeds
Train crew orientations
Challenges of extraction
Railroad mileposts, signals, crossings, flagging distances, and bungalows
Access points to the railroad
Secondary access points if primary is blocked
Safety equipment diagrams
Trespassing on railroad property
Bent rail
Pneumatic and electrical hazards
Tunnel and bridge preplanning
Environmental issues
With Amtrak having more than 500 stations and 31.6 million passengers in 2013, the EMCS's goal is to promote safety and security for all of its customers, employees, and community partners. The one-day PTER training is offered free of charge to all community response agencies that may have to respond to a train incident within their jurisdictions or neighboring jurisdictions.
To find out more or to schedule a PTER training course with Amtrak, please contact the EMCS at: EMCS@Amtrak.com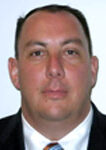 James (Jim) Metzger was appointed as the deputy chief of emergency management in Amtrak's Emergency Management & Corporate Security Department in August 2012. He is responsible for leading Amtrak's planning, preparedness, training, exercise, disaster response, and recovery effort enterprise wide, as well as compliance for 49 CFR Part 239 with host railroads and federal partners. From 1990 to 2008, he worked for the Southeastern Pennsylvania Transportation Authority Police Department, where his last position was as counter-terrorism director and commander of special operations. He directed officers in special weapons and tactics, canine, intelligence, and community policing. He authored, "Preventing Terrorist Bombings in United States Subway Systems." He is a veteran of the United States Marine Corps. He graduated Summa Cum Laude with a Bachelor of Science degree in criminal justice and world religions from Chestnut Hill College, in Philadelphia. In addition, he earned a Master of Arts degree in security studies (homeland security and defense) from the Naval Postgraduate School in Monterey, California, and a masters in organizational leadership from Villanova University in Pennsylvania. He is a Department of Homeland Security, certified Master Exercise Practitioner, and Business Continuity Professional; as well as a Certified Business Continuity Professional from Disaster Recovery International.