Emergencies and disasters have a way of disrupting the norm. In emergency management, disruption is to be expected. However, the events that plague preparedness professionals in 2020 may have an even greater impact on how communities plan for and respond to disasters going forward. For example, the digital world has increased the ability to share data and information on a broad scale. Unfortunately, this is true for both good and bad information, which compromises the overall accuracy and reliability of the critical information that ultimately reaches key stakeholders. Protecting against cyberattacks and ensuring accurate information for data-driven decisions requires additional effort than years past.
In the physical world, growing social unrest domestically coupled with increasing threats from foreign actors create a perfect storm for local and federal law enforcement. Locally, law enforcement agencies are toiling over systemic changes to reform police agencies in order to meet the growing needs of the communities they serve. Nationally, law enforcement agencies prepare to manage terrorist threats and threats from those who wish to use weapons of mass destruction. Together, all levels struggle to build cohesion within and between their demographically disparate communities.
The year 2020 is a time to remember – a time of natural and human-caused disasters, a time of social and political unrest, and most importantly a time of lessons to be learned. Experts predicted the nation would someday face a triggered collapse, yet it still was not prepared for COVID-19. Experts predict that an even worse case scenario is likely in store for the future. However, planning for a worst-case scenario is only half the battle. The harder part is implementing that plan when it is needed most. Embracing a data-driven culture and building collaboration among all stakeholders are key actions on the path to resilience in the face of even an unimaginable worst-case scenario.
This edition of the DomPrep Journal shares the knowledge of experts who have dedicated their lives to serving and protecting their communities. They not only know how to plan for a disaster, but they actively strive to do something with these plans. This is the time for all DomPrep readers to update old plans, create new plans, and then put these plans into action before the next worst-case scenario emerges.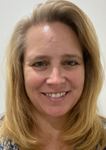 Catherine L. Feinman, M.A., joined Domestic Preparedness in January 2010. She has more than 30 years of publishing experience and currently serves as editor of the Domestic Preparedness Journal, DomesticPreparedness.com, and the DPJ Weekly Brief, and works with writers and other contributors to build and create new content that is relevant to the emergency preparedness, response, and recovery communities. She received a bachelor's degree in international business from the University of Maryland, College Park, and a master's degree in emergency and disaster management from American Military University.