New York City Emergency Management (NYCEM) has designed an internship program specifically tailored for high school students. The agency shares its lessons learned to help other agencies understand why such efforts are important, how the program works, and what steps agencies can take to start their own intern programs. Engaging at the high school level helps recruit a valuable yet underutilized resource and promotes overall community resilience.
Emergency managers and other preparedness professionals have an obligation to help communities prepare before disaster strikes. As the field of emergency management continues to expand and take on more significance, one of the most vital elements is preparing the next generation of emergency managers. The NYCEM Internship program provides an opportunity for high school students to gain experience in the field and forge potential careers.
"The internship program exposed me to several careers in the emergency management field that I wasn't familiar with," said Edwin Ruiz III, senior at Urban Assembly School for Emergency Management. "The experience I gained from my supervisors and professionals in the field was very valuable."
To ensure student voice was in every aspect of the program, the inaugural interns developed the following mission statement for the program:
The NYC Emergency Management High School Internship Program is designed to develop students' college and career-ready skills and provide opportunities that expose the intern to multiple facets of emergency management.
Students who intern with NYCEM expand their knowledge of emergency management, and connect with professionals in the field. They also begin to determine if emergency management is a field they want to pursue after high school. During the program, interns gain real-life work experience such as communication skills – including the proper use of phone and email. Depending on the unit a student works in, he or she could gain technical skills such as computer reimaging, creation of a training storyboard, or aspects of a good strategic plan. In addition, every student leaves the program with a completed presentation and LinkedIn account.
"New York City Emergency Management's high school internship program helped me gain real-world experience," said Angelica Santiago, senior at Urban Assembly School for Emergency Management. "From creating a LinkedIn account to working on our own emergency management presentation – these are skills I know I will carry with me in my professional career." (See Figure 1)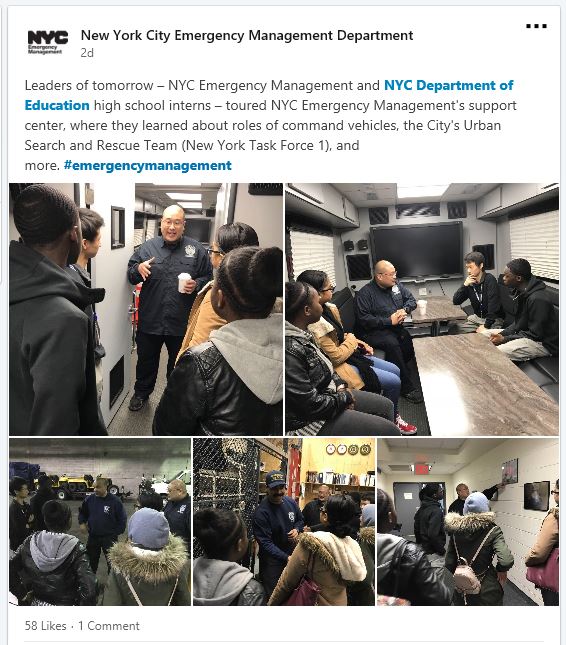 However, students are not the only ones who benefit from the internship. Supervisors gain skills, like learning how to breakdown complex processes into a user-friendly language.
"Participating as a supervisor in the internship program helped me improve my presentation skills," said New York City Emergency Management Disability, Access and Functional Needs Desktop Support Technician Torey Rowe. "Breaking down complex technical terms into a user-friendly language is a skill I improved during my time with the interns."
In addition to skills, two of the most common remarks from supervisors at the end of the program involve how the intern brings a fresh perspective to the team, and how the team becomes energized by them (see Figure 2).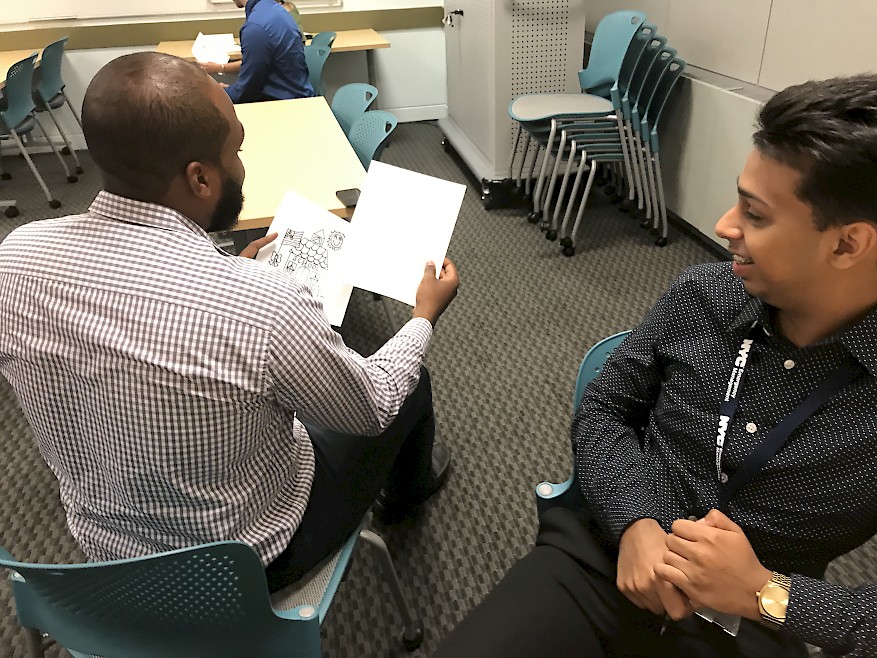 How the Program Works
Every idea, activity, and project in the program works toward achieving at least one of three goals:
Exposing interns to at least three different emergency management career opportunities.
Having interns self-identify an improvement in at least 10 college and career-ready skills, using a pre- and post-form.
Ensuring interns leave with at least one completed project.
The first step in developing the program is identifying supervisors – or mentors. Supervisors can include entry-level employees or executives. Once supervisors are identified, the next project is to outline "wish-list" tasks – for example, the need for an extra person to help with basic technology requests, training development for future high school interns, or document redesign to be more visually friendly. This type of project removes the fear of meeting deadlines, while also giving the intern a meaningful assignment.
Next, the interns have the power of choice, with high-school-appropriate job descriptions that specify what interns would be working on and what tools they would use to accomplish the task. After a group interview, interns rate their desired jobs in order of preference. The goal is to provide them with their first choice, but also to verify with the supervisor that they accept the intern. In addition to the supervisor's projects, the program coordinator provides the interns with a list of tasks to work on, which include developing a LinkedIn profile, finding professional articles in the career of their interest, and creating a presentation of learning.
During the internship, professional development opportunities are provided and teachable moments encouraged. These include simple tasks such as filling out timesheets, and emergency management specific assignments such as site visits and listening to interagency conference calls for incidents. As an additional step to ensure growth and avoid frustration, the program coordinator checks in with each intern once a week for 20-30 minutes to review their goals, talk about current projects, and answer any questions. This provides some of the most meaningful time with the interns (see Figure 3).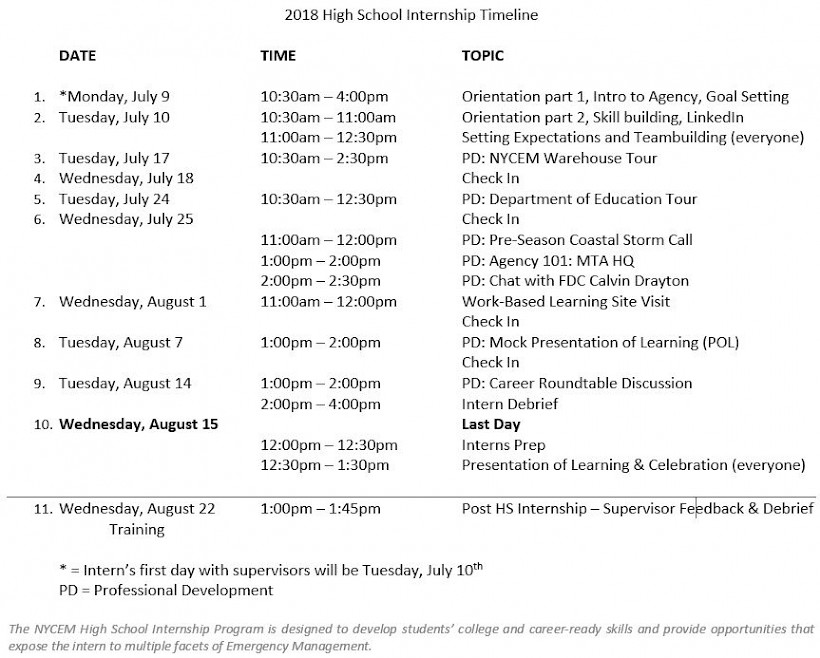 Steps to Develop the Internship Program
NYCEM has identified five key steps for a successful internship program:
Create a regular email to the interns and supervisors: A template is used to send a weekly email that includes program updates, requests, tasks the interns are working on, important dates, a question to ask the supervisor, a question to ask the intern, pictures from the past week, as well as an attached timeline.
Build a timeline: The timeline is created before the first day, and updated as changes occur or activations happen. Every program cycle includes: a tour of NYCEM's backup location; site visits with other agencies; a career roundtable discussion with NYCEM staff; and internal trainings with other emergency management professionals.
Begin with an orientation and program kick off: Day one begins with the interns and the internship program coordinator. The first day includes an orientation to the agency as well as practice with Outlook to schedule meetings, create a signature, and even develop a LinkedIn profile. Day two is a half-day program with the interns and their supervisors. They discuss an overview of the program as a group, have the interns go through a communication teambuilding activity with their supervisors, and generally ensure everyone understands the expectations. This method builds a solid foundation for future learning.
Create a pre- and post-skills form: On the first day and last day, interns self-identify their comfortability with several tasks – for example, using Outlook email, working with others, admitting when they made an error, and knowing when to search the internet for an answer versus when to ask someone a question. Using the skills form, interns rate their comfortability handling each task. Once completed, the supervisors receive a copy of the form, which guides them on the type of support and training each intern needs to fulfill his or her goals. It also shows the supervisors, but more importantly the interns, how much they grow throughout their internship.
Ask for feedback: In their last week, interns complete a post-evaluation form. They provide feedback on the program, their supervisors, and the intern program supervisor. In addition, they share suggestions on improvements to the program. Each year, before the start of the internship program, NYCEM takes into consideration the feedback received to continually improve the program.
"In the end, the high school internship program is impactful, engaging, and rewarding to everyone involved," said New York City Emergency Management Assistant Commissioner of Technology Eric Smalls. "I look forward to continuing to support the program because we're making a difference in young people's lives."
Any questions regarding how to start a new or improve an existing high school internship program, please email the NYCEM Academy at NYCEMAcademy.oem.nyc.gov (see Figure 4).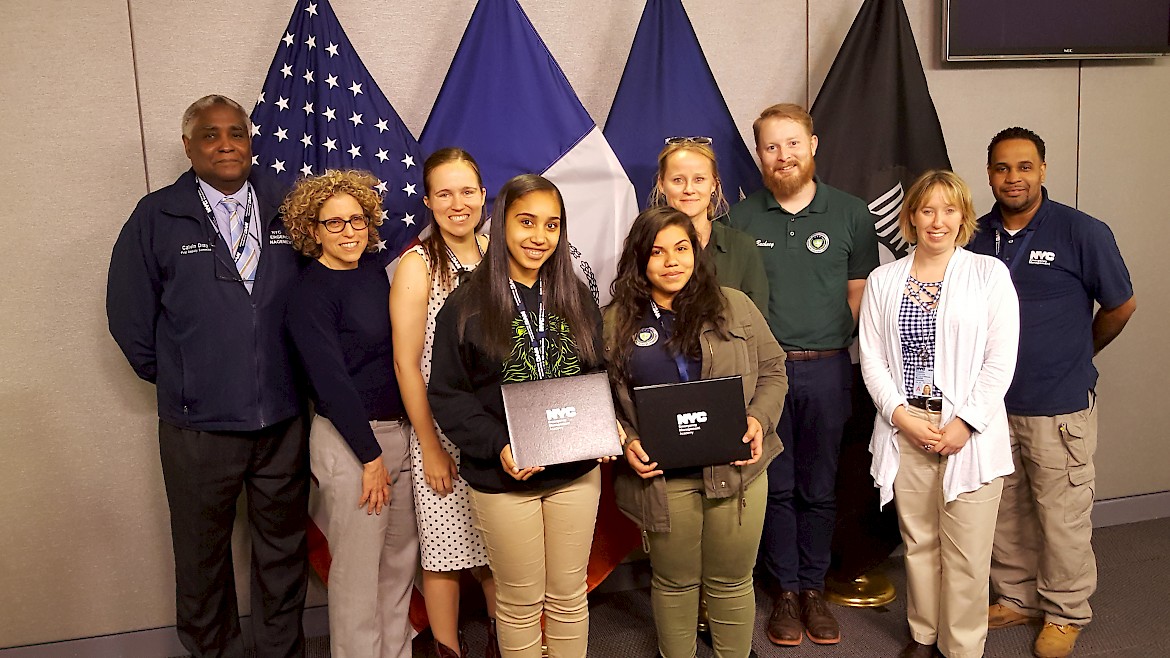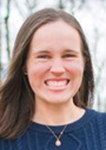 Jennifer Pearsall is a federal emergency manager and founder of EM Peer Wellness, a free peer-driven event newsletter designed to support meaningful connections among emergency managers. For the past eight years, she has served in multiple emergency management roles (paid and volunteer) across nonprofits and at the local and federal levels. She has responded to various disasters, including Tropical Storm Ida, COVID-19, Hurricane Maria, 2016 Louisiana flooding, and 2015 Oklahoma tornados. Pearsall is a proud AmeriCorps alumna, serving in three separate programs. She holds a bachelor's degree in public relations with a minor in leadership from the University of Central Oklahoma. In addition, she has an advanced certificate in emergency management from John Jay College of Criminal Justice.