An Article Out Loud by the Domestic Preparedness Journal, October 05, 2022.
Over the past two and a half years, most emergency preparedness professionals experienced some level of virtual work, even at emergency operations centers (EOC). And it appears that some aspects of working virtually is here to stay – including during a response. This article describes some lessons learned from one emergency manager tasked with running a virtual EOC.
Narrated by MacGregor Stephenson.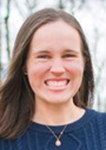 Jennifer Pearsall is a federal emergency manager and founder of EM Peer Wellness, a free peer-driven event newsletter designed to support meaningful connections among emergency managers. For the past eight years, she has served in multiple emergency management roles (paid and volunteer) across nonprofits and at the local and federal levels. She has responded to various disasters, including Tropical Storm Ida, COVID-19, Hurricane Maria, 2016 Louisiana flooding, and 2015 Oklahoma tornados. Pearsall is a proud AmeriCorps alumna, serving in three separate programs. She holds a bachelor's degree in public relations with a minor in leadership from the University of Central Oklahoma. In addition, she has an advanced certificate in emergency management from John Jay College of Criminal Justice.