An Article Out Loud from the Domestic Preparedness Journal. 
A tool designed with zero tolerance would not be able to function efficiently or effectively. Likewise, taking a zero-tolerance approach to emergency preparedness and response has led to some problematic policies and procedures. This article explains why building in some level of acceptability would make policies and procedures more effective and communities more resilient.
Narrated by Randy Vivian.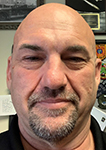 Christopher Tantlinger is the deputy emergency management coordinator, Westmoreland County Department of Public Safety, Pennsylvania. He serves as chief of the county HAZMAT team. He has 27 years in the fire service, is past president of the Fire Chief's Association of Westmoreland County, and is a proboard-certified HAZMAT technician. He serves as a rescue technician instructor for a rescue tool manufacturer. Activities include serving on the board of the Pennsylvania Association of Hazardous Materials Technicians. He is a cum laude honors graduate of Saint Francis University in Loretto, PA, with a BS in criminal justice and holds a professional certification from the Pennsylvania Emergency Management Agency. The author can be contacted for more information or to discuss collaborative ideas at: ctantlin@co.westmoreland.pa.us