In the wake of two major disasters – the 11 September 2001 terrorist attacks against the United States, and Hurricane Katrina, which made landfall in southeastern Louisiana on 29 August 2005 – the American people, as well as the profession of emergency management worldwide, became more keenly aware of the lifesaving importance of being able to communicate effectively in such situations, particularly to ensure the safe passage of disaster victims, and emergency personnel themselves, out of danger zones.
Since those catastrophic events, and because of the hard lessons learned from them, U.S. emergency managers and responder personnel have been searching globally for the new technologies and techniques needed to create safer buildings, pathways, and corridors, as well as more responsive on-scene systems and capabilities to enhance both emergency evacuations and communications. Following are a few selected examples describing how various agencies and organizations at all levels of government, and in the private sector, are working to improve individual and organizational communications in various ways:
The U.S. Fire Administration, a branch of the Department of Homeland Security's Federal Emergency Management Agency – working in partnership with the International Association of Firefighters (IAFF) and SAFECOM (a multifaceted DHS communications program) – last year published a Voice Radio Communications Guide for the Fire Service. The Guide, which represents a huge and timely step forward in enhancing safety not only for emergency-services personnel but for everyday citizens as well,  provides updated information on communications technology – including but not limited to hardware, software, policy, and procedures, as well as human interfaces – and discusses a number of critical emergency issues and concepts. As IAFF General President Harold Schaitburger said, "The safety of both firefighters and other citizens depends on reliable, functional communication tools that work in the harshest and most hostile of environments."
Recent incidents – the terrorist attacks in Mumbai provide the most prominent example – have caused an increasing number of international hotels to consider use of emergency communications technologies in their construction and planning. Because of the types of guests – leaders from around the world, out-of-town tourists, local movers and shakers – and events (society weddings, birthday celebrations of the well-to-do, and public-issue fundraisers and functions) – the hotels attract, the realization that the hotels themselves could become targets could no longer be avoided, particularly after other hotel attacks in Pakistan, Jordan, and Afghanistan. The search for communications technology has reached a new level in recent years among those owning and managing such large facilities and high-value targets. Giving additional emphasis to this trend is the inescapable fact that violent threats to diplomatic targets persist and have migrated over to international hotels.
New Model Building Safety Codes: The global vision of future buildings – especially tall structures – includes being: (a) increasingly resistant to fire and other hazards; (b) more easily evacuated in emergencies; and (c) safer overall. New comprehensive building and fire codes, approved last year by the International Code Council (ICC), were recommended by the U.S. Department of Commerce's National Institute of Standards and Technology (NIST), which recommended even stricter prescriptive changes.
The ICC recommendations were based on studies conducted by NIST on the 9/11 World Trade Center evacuation, as well as on evaluations of other evacuations during tall-building disasters and transportation accidents. One of the new requirements being followed is to make exit-path markings both more prevalent and more visible. Another is to ensure effective coverage throughout buildings for emergency responder radio communications.
The Evolution of Best Practices Into Best Examples
These national, international, and organizational improvements and recommendations have been augmented and supplemented by numerous "Best Practices" findings and requirements mandated at the state and local levels of government. Following are a few "Best Examples" instituted as a result of the Best Practices findings:
The Mid-Ohio Regional Planning Commission, using funds provided by the U.S. Department of Transportation, has developed a Special Needs Evacuation Plan that covers seven Ohio counties plus Columbus, the state capitol. The Ohio planning efforts focus special emphasis on outreach requirements, including the use of multi-lingual, Braille, and sign-language translations of important information, including official announcements and other documents.
The Pittsburgh Central Business District has developed an evacuation plan that includes a wealth of information related to traffic modeling and evacuation route assessments, stakeholder coordination, sheltering needs, backup resource assessments, citizen awareness and education programs, and shelter planning. In addition, a needs assessment group evaluated such ancillary requirements as evacuation signage and traffic control, transportation, pick-up points, media, public notification, mutual-aid agreements, and – last but not least – the development and use of a personal computer-based system for the simulation of traffic flow during emergency evacuations initiated in response to all types of catastrophes, whether acts of nature or manmade.
New York City's Office of Emergency Management and Office of Homeless Services developed plans and procedures last year for evacuation centers throughout the city; included in those plans are field guides for the operation and management of the centers, as well as "how to" advice on recommended ways to open, manage, and/or shut down an evacuation center – with special focus on center staffing, supplies, resources, and official forms and other helpful documents.
The District of Columbia has developed its own Shelter and Evacuation Guide for each ward in the city; the guides include specific routes and rules for safe evacuation, not only neighborhood by neighborhood but also street by street.
North Carolina has developed and promulgated a county-by-county special coastal region evacuation plan, based on a number of valuable lessons learned through years of hurricane evacuations. The N.C. plan – supported and facilitated by the North Carolina Emergency Response Team, the Office of Emergency Management (under the Crime Control and Pubic Safety Department), and the North Carolina Emergency Management Association – includes a master timeline for evacuation-and-sheltering actions, storm surge maps, evacuation processes, and various decision-making, transportation, sheltering, and public information recommendations. A special feature of the N.C. plan is its focus on the six typical phases of evacuation: preparedness, standby, decision, implementation, storm effects, and re-entry.
The State of Texas Evacuation Plan is coupled with its Mass Care Plan – thanks in large part to an effort led by the late Jack Colley, former State Director of Emergency Management. The plan includes not only a clear organization and assessment of responsibilities, but also a strong concept of operations – with particular focus on, among other major tasks and responsibilities: evacuation strategy and policy; data collection and analysis; evacuation preparedness activities; the implementation and conduct of evacuation operations; mass care needs and capabilities; hazard-specific evacuation requirements; communications and transportation; the state's "special needs" populations; and multiple ESF (emergency support function) support and staffing requirements.
Lightstep Technologies & Other Private-Sector Advances
Meanwhile, scientists and inventors around the world have been working on technological solutions for the evacuation challenge. One leading example is Lightstep Technologies of Belfast, Northern Ireland, which has been working on a remarkably intelligent evacuation system for communicating with building, bus, tunnel, and train occupants to ease their safe and secure exit and evacuation from potentially major incidents, rooted in any and all hazards. Lightstep's collaboration with the U.S. emergency management community started after 9/11, was facilitated by the Greater Washington Board of Trade, and has expanded throughout the country (and now overseas) in numerous meetings, seminars, and conferences; the conference schedule included a European unveiling last fall as well as the New York City Tall Buildings Conference and Asian and Middle Eastern presentations this year.
In its simplest and most straightforward approach, Lightstep's "Highly Intelligent Evacuation System" uses light-emitting diodes (LEDs) to ease evacuation. One innovation is the PathFinder guidance system developed for installation in floors and stairways; another is an ExitFinder, which projects emergency messaging through use of a lighting system independent from the electrical system of the building (or vehicle) at risk. The system also includes both a DoorFinder and a HallFinder (CorridorFinder) for use in dangerous blackout situations.
All of these technologies are integrated with intelligent automatic-activation devices. With each and every sensor unit continually in communication with one another, the system is designed so that, if one component fails, the remaining sensors take over to ensure that visibility is never compromised – even in heavy smoke, fire, or fog.
A Good Beginning & Better to Come
To briefly summarize: There is a growing awareness, fortunately, that the still emerging GIS (geographic information system) technologies should be: (a) integrated with other emergency management technologies – e.g., WebEOC®, E Team, and Blue 292; and (b) coupled with extensive planning, training, and exercises.
Not only throughout the United States but overseas as well, the development, writing, and promulgation of evacuation plans using highways, streets, and sidewalks are advancing rapidly and – along with the rapidly increasing use of Facebook, Twitter, and other social media – should make future evacuations not only much easier but also safer, both for disaster victims as well as for emergency responders and managers.
Moreover, with so many leading agencies, organizations, and companies working hard and doing their part to improve emergency evacuation communications for responders and all others directly affected in times of sudden disaster, a safer and more secure environment is virtually guaranteed.
Moving forward with even more robust technology and communications systems – aided and abetted by even higher standards, and increased funding – should, and undoubtedly will, take these impressive and diverse efforts to the next level – a challenge which will be widely and gladly accepted by the public, as well as by emergency managers and all other public, nonprofit, and private-sector leaders.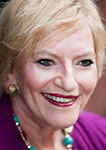 Kay Goss is the President of World Disaster Management, LLC. Her emergency management work began 40 years ago, as senior assistant to two state governors coordinating fire service, emergency management, emergency medical services, public safety, and law enforcement for 12 years. She then served as the Associate Federal Emergency Management Agency (FEMA) Director for National Preparedness, Training, Higher Education, Exercises, and International Partnerships (presidential appointee, U.S. Senate confirmed unanimously). She was a private sector government contractor for 12 years, at the Texas firm, Electronic Data Systems (EDS) as senior emergency manager and homeland security advisor and SRA International's director of emergency management services. She currently serves as a nonprofit leader on the Board of Advisors for DRONERESPONDERS International and for the Institute for Diversity and Inclusion in Emergency Management, and as graduate professor of Emergency Management at University of Nevada at Las Vegas for 16 years, İstanbul Technical University for 12 years, the MPA Programs Metropolitan College of New York for five years, and George Mason University. She has been a Certified Emergency Manager (CEM) for 25 years and a Featured IAEM CEM Mentor for five years, and Chair of the Training and Education Committee for six years, 2004-2010. She is also on the Advisory Board for Domestic Preparedness.