An Article Out Loud from the Domestic Preparedness Journal. 
When intentional acts of violence occur, people often wonder if the incident was preventable. For example, after a mass shooting killed 19 students and 2 teachers in Uvalde, Texas, on May 24, 2022, many were questioning the predictability of the gunman's actions and the decision-making process of the responders. This article examines these questions.
Narrated by Randy Vivian.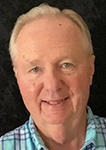 William H. Austin, DABCHS, CFO, CHS-V, MIFire, currently teaches in the Emergency Management Master's Degree Program at the University of New Haven in Connecticut (2016-present). He formed a consulting firm, The Austin Group LLC, in 2011. He served as fire chief of West Hartford, CT (1996-2011) and as the fire chief of Tampa, FL (1985-1995). He has a master's degree in Security Studies (Defense and Homeland Security) from the United States Naval Postgraduate School (2006) and a master's degree in Public Administration from Troy State University (1993). He is a member of the Preparedness Leadership Council and has served on various governing councils in Florida and Connecticut. Contact at whaustin.tag@gmail.com