Disasters like 9/11 and Hurricane Katrina physically devastated the regions in which they occurred, affected people who were not directly impacted, and spurred nationwide action to assist in the response and recovery activities. As significant as those events were, though, they could not prepare the nation for the COVID-19 pandemic. Unlike most disasters in recent history, every community is feeling the impact and there is no end in sight. Daily routines have been universally interrupted, and everyone is now living in the hot zone.
Critical resources such as masks, gloves, and other personal protective equipment (PPE) have been cleaned off shelves, resulting in widespread shortages. Mutual aid agreements typically fill such resource gaps, but not when these neighboring partners are experiencing the same PPE challenges. It is now basically every community, every agency, and every company for itself. Some are proactive and creating innovative solutions. Others are still complacent and trying to ignore the disaster at the doorstep. It is not going away anytime soon.
However, experts knew this day would come, and they shared projections of how a pandemic like the Spanish Flu that began in 1918 (which infected about 500 million and killed tens of millions) would affect today's highly mobile and densely populated communities – another black swan event. The time to prepare is past – and there is no way to know today whether those dire predictions will come to fruition with the current pandemic. It is certain though that circumstances will worsen, the number of quarantines will increase, the economy will be hit hard, and the death toll will rise before the nation can recover and return to another new normal.
Although the COVID-19 crisis is not like 9/11 and Katrina, the core elements of a response plan for any disaster include collaboration and communication. These two elements can help bridge the response and recovery gaps created when adequate investments in preparedness were not made. These elements also boost stakeholder buy in when leaders have to make tough decisions about shutdowns and quarantines. Discussions tend to be more well received in the aftermath of a disaster than in the planning phase, where investments in what-if scenarios are lacking. Looking toward the future, this full-scale real-life exercise provides a great opportunity to develop comprehensive pandemic plans and identify and close critical gaps.
After previous disasters struck, communities and the nation as a whole slowly returned to normal or a new normal. Communities may not have emerged exactly the same as before, but the people are resilient. With COVID-19, countries around the world will remain in the eye of the hurricane and in the rubble at ground zero for months to come, but it will pass. However, if lessons are not learned and leveraged and best practices are not developed, that will be the greatest tragedy.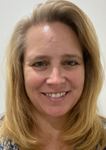 Catherine L. Feinman, M.A., joined Domestic Preparedness in January 2010. She has more than 30 years of publishing experience and currently serves as editor of the Domestic Preparedness Journal, DomesticPreparedness.com, and the DPJ Weekly Brief, and works with writers and other contributors to build and create new content that is relevant to the emergency preparedness, response, and recovery communities. She received a bachelor's degree in international business from the University of Maryland, College Park, and a master's degree in emergency and disaster management from American Military University.