Read "Security Training – From World Cup to Olympic Games," by Richard Schoeberl
Listen to podcast "Training for Special Events – Keeping Them Safe & Secure," by Richard Schoeberl
Controversy over Brazil's ability to protect athletes and fans surrounds the world's largest single-sport event. A June 2014 flash poll of DomPrep readers suggests that many experts lack confidence in any country being able to adequately train enough law enforcement officers to protect events such as the 2014 FIFA World Cup in Brazil, where so much daily violence exists. This article is a compilation of the anonymous survey responses shared by emergency planners, responders, and receivers.
Joining Forces – Both Public & Private
The roles of both public and private law enforcement officers have changed considerably since the 9/11 attacks on the United States in 2001. Securing special events has become a regular responsibility for these officers in addition to their routine crime-reducing responsibilities. The unique challenges and additional security concerns that special events present require extensive planning and management.
The Boston marathon serves as a good example of post-9/11 law enforcement, emergency medical services, hospital, private sector, and civilian response efforts. The integration of multiple assets and agencies in training exercises helped empower responders to assess the situation and make critical decisions. By reacting quickly, emergency responders and bystanders were able to save lives. Open-air venues, however, will remain a challenge for security personnel and emergency managers.
Although many survey respondents (nearly 42 percent) reported that it is impossible to adequately train a sufficient number of security personnel to secure a "crime-ridden country," an event with a footprint as large as the World Cup, even without the daily civil violence, would present challenges for any country's security efforts (Figure 1). Widely televised special events at any venue are tempting targets for terrorist activities. Robots, drones, and other advanced technology, as well as intelligence measures prove helpful, but cannot replace proper training and situational awareness.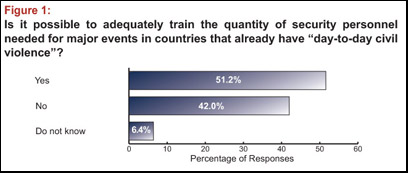 Training for large-scale special events also should include temporary security officers who may become necessary as the time for the event nears. Large-scale special events often require additional resources, but these resources must have the proper training, good communication, and knowledge of protocols. Accomplishing this task may require staggering the training – multiple trainers on multiple days – until all personnel are "up to speed."
Combination of Training Techniques
One respondent stated that, "Most important is to train command and control elements and then first line supervisors. If the first-line supervisors are trained well, the troops will follow (they need the rudiments at least)." The podcast interview linked to this article addressed this issue. Whether training from top-down or bottom-up, the presenters agreed that training should be available to all levels of personnel, rather than relying on those trained to pass on the information to other personnel.
Another respondent stated that the specific types of training – roll-call training, video training, handouts, online training, tabletop exercises, and field exercises – may vary in effectiveness depending on the stage in the planning process, the location of the event, the type of event, the participants involved, and many other factors. Overall, respondents ranked field and tabletop exercises as most effective, but a combination of trainings supports a more robust security plan (Table 1).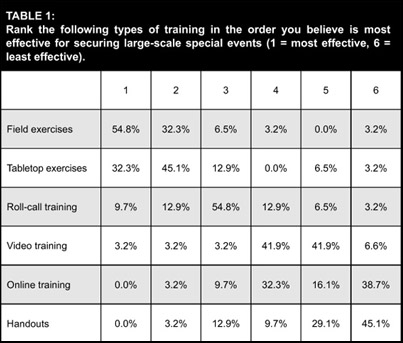 For instance, when preparing for the 2012 Olympic and Paralympic Games in the United Kingdom, planners incorporated a range of training scenarios for responders and policymakers using roll-call and tabletop exercises. In another example, The Ohio State University Police Department uses major sporting events on the campus to conduct full-scale training exercises based on various scenarios.
Special events – sometimes welcome and sometimes protested – draw diverse crowds into areas that quickly can overwhelm local resources, especially when daily violence is present. When the "culture" of an event like the World Cup clashes with the culture of the community, security problems may escalate. Determining objectives, coordinating details, and training personnel must occur well in advance of the event, as each event ultimately serves as a building block for the next event – plan, train, evaluate, repeat.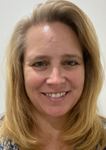 Catherine L. Feinman, M.A., joined Domestic Preparedness in January 2010. She has more than 30 years of publishing experience and currently serves as editor of the Domestic Preparedness Journal, DomesticPreparedness.com, and the DPJ Weekly Brief, and works with writers and other contributors to build and create new content that is relevant to the emergency preparedness, response, and recovery communities. She received a bachelor's degree in international business from the University of Maryland, College Park, and a master's degree in emergency and disaster management from American Military University.