This DomPrep40 survey on pandemic preparedness and response, prepared by the Association of State and Territorial Health Officials (ASTHO) and its executive director, Paul E. Jarris, MD, MBA, indicates there is a possible fault line in current pandemic planning assumptions that may have to be addressed.
Both groups – the DomPrep40 and DomesticPreparedness readers – are in a three-way split over which level of government has the primary responsibility for pandemic flu planning and response. But nine out of ten respondents in both groups strongly believe that state and local levels lack the resources to respond to emerging infections.
Key Findings: Plus-or-minus 75 percent of both the DomPrep40 and the DomesticPreparedness readers favor federal funding going beyond preparedness for specific pandemic threats to cover all hazards.
Click for Full Report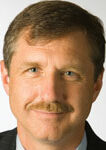 Dr. Paul E. Jarris, ASTHO (Association of State and Territorial Health Officials) Executive Director.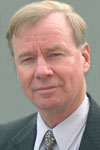 John F. Morton is the Strategic Advisor for DomPrep. He is also the Homeland Security Team Lead for the Project on National Security Reform (PNSR). A member of the DomPrep team since its founding, he has served as managing editor for writer assignments and interviewer for scores of DomPrep audio interviews.