Providing information to the public in times of crisis is so critical to disaster operations that it is included as one of the five major components of the National Incident Management System. Mass media is one of many tools available to help public information officers disseminate essential information and convey risks to the public before, during, and after a disaster.
It is no longer enough to simply hold press conferences and issue press releases. PIOs must also be able to collect, assess, and share verified information with the public and the media via press briefings, website management, and social media coordination. As such, PIOs must develop procedures and protocols for the release of warnings, incident notifications, public communications, and other critical information through a defined combination of networks used by the emergency operations center.
Reaching the Entire Community 
Notifications to all stakeholders in the community, to nongovernmental organizations, and to the private sector are made through defined mechanisms specified in emergency operations and incident action plans. Such planning includes how various agencies would work together to manage information flow and to coordinate PIO roles for each key stakeholder, with each stakeholder signing the plans to ensure agreement for future cooperation. Like emergency operations, planning for the effective management and dissemination of information begins long before an incident or event occurs.
In times of crisis, PIOs need to create strategic plans to collect, verify, and disseminate information to the community to warn the public of the crisis and to direct evacuation and other protective measures. Before any incident, there is a role for the PIO to assist with outreach activities such as programs designed to educate the public about local threats and hazards, and potential mitigation techniques. In addition, a PIO could develop outreach materials that promote family or business preparedness and mitigation strategies that are targeted to the community based on the community makeup to include various cultures and languages, and to aid people with special needs.
The PIO must be sure to maintain the capability to communicate valuable information about evacuation, sheltering, and other important disaster response and recovery information to the entire community, including individuals with special needs. Individuals with special needs include those with cognitive and functional needs, as well as language barriers. PIOs should have materials translated into languages commonly found within the community. Preparedness information as well as information released to the community should be provided in multiple formats such as braille and large print.
Organization & Training 
The Federal Emergency Management Agency (FEMA) offers general information and guidance for PIOs. Anyone that has responsibility for the collection, verification, and dissemination of information should review FEMA's Basic Guidance for Public Information Officers (FEMA-517, 2007).
The FEMA-517 guidance document provides a suggested organizational structure for the PIO staff involved in a large-scale incident. Figure 1entifies the essential elements for managing and distributing information in times of crisis. The recommended structureentifies the four functions of information gathering, information dissemination, operations support, and liaison activities. While Figure 1 is for large-scale incidents, Figure 2 identified as more likely in an initial response.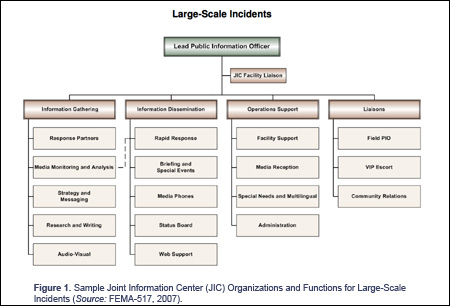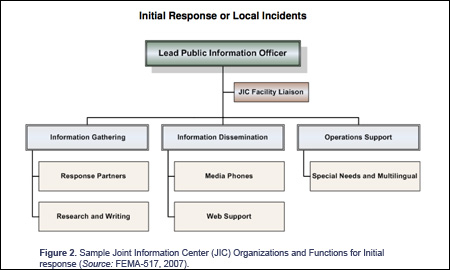 The most important takeaway from these recommended organizational charts is that one person serving as the PIO is not sufficient for managing media and public requests for information. The demand for verified information requires the PIO to have a strategic plan and an adequate staffing level to manage such requests to ensure that all involved have a common operating picture and understand expectations during an incident. In other words, everyone should have the same information about the incident so that all stakeholders – public and private – can make informed decisions based on the community's needs and available resources.
In addition to a thorough knowledge of communications principals, FEMA recommends that all PIOs complete Incident Command System training at the 100, 200, and 300 levels. PIOs and their teams should also be versed in the National Incident Management System, which is offered by FEMA (IS-700A) for those needing to learn the basics of this national standard. All these courses are found online via the Emergency Management Institute.
Establishing Media Contacts
The PIO's role is to coordinate with the on-scene commander and the emergency manager to gather and verify information. The PIO should send the first press release within the first hour of the incident, thus providing needed information for the public to understand the threat, the size, and the scope of the incident, as well as general information on actions being taken.
In order for emergency management agencies to coordinate with media outlets, they must be able to: share and distribute accurate and validated information in a timely manner; understand news media objectives; and develop mutually beneficial working relationships before and during any incident. By collaborating with mass media, PIOs can create strategy plans to manage media and community information needs before incidents to help provide guidance on preparedness, create risk-reduction strategies, and secure the reputation of the emergency management organization.
Building a working relationship with local media proves helpful in times of crisis. Emergency management offices may wish to have a workshop for local mass media to provide general information on emergency management principals and concepts. This provides the PIO an opportunity to answer questions about how information should be disseminated during an incident or planned event. This also helps reporters to understand the background information necessary for accurate reporting and to have an understanding of roles and responsibilities during an incident response.
However, not all reporters are found in mass media. Today's Internet has provided opportunities for many to become bloggers, either for fun or profit. PIO staff now needs to work with bloggers that focus on community issues and events. It is the job of the PIO to keep media and the community aware of preparedness/awareness campaigns, projects, and initiatives. It is best not to wait for a crisis to meet local reporters for the first time. 
The PIO is a valuable part of a community's emergency management team. The information provided by the PIO sets the tone of the response and recovery story and may provide critical information to save lives and protect those in harm's way. 
Anthony S. Mangeri, MPA, CPM, CEM, has more than 30 years of experience in emergency operations and public safety. During the terrorist attacks of 9/11, he served as operations chief at the New Jersey Emergency Operations Center, coordinating that state's response to the passenger-aircraft crashes into the World Trade Center. He has served his community as a volunteer firefighter and an emergency medical technician (EMT) for more than 25 years, ultimately earning the rank of assistant chief/safety officer and serving as the fire department's health and safety officer for many years. Currently, he is a consultant focusing on emergency management, planning, training, and exercising. He is also on the faculty of several universities. He serves on several professional committees, including the ASIS Fire and Life Safety Council, and is president of the International Association of Emergency Managers (IAEM) Region 2. He earned a Master of Public Administration from Rutgers University. He is a Certified Public Manager and has received the IAEM's designation of Certified Emergency Manager.