There are three standards organizations in the world's sometimes overlapping standards networks that are particularly relevant to the U.S. emergency-response community, and that are working to simplify the processes involved in getting questions answered about, among other things: (a) standards that are approved or still in development; (b) whether a specific emergency-response equipment item has met a required standard; and (c) how an organization, agency, or private-sector business can and should be included as a stakeholder in a particular standard development effort. 
The largest and probably best known standards group in the world is the International Organization of Standardization (ISO).  ISO members are the developers of the ISO 9000 and 14000 series of standards familiar to the emergency-response community with regard to quality and environmental standards and the conformity assessment rules related to those standards. The American National Standards Institute (ANSI), a smaller but equally respected group, was delegated by the National Institute of Standards and Technology (NIST) to be the U.S. representative on the ISO. What is particularly relevant to the U.S. emergency-management community is that ANSI disseminates information on international and national standards that can ensure the safety and health of consumers and the protection of the environment. ANSI also creates a neutral context for stakeholders who are seeking to reach agreement on the development of standards. 
Also of considerable importance to U.S. stakeholder groups is the ANSI Homeland Security Stakeholder Panel (ANSI HSSP), an organization that ANSI founded and chartered – at the request of the U.S. Department of Homeland Security – to determine what existing standards are of particular interest to the nation's homeland-security community, and to work toward the development of standards that are still needed. The ANSI-HSSP (see box) can provide emergency responders not only with the most current information about specific standards, but also a link to a list of panel members as well as leadership contact information. It is important to note that the Stakeholder Panel includes in its membership not only equipment manufacturers and government agencies but also other standards-development organizations such as the National Fire Protection Association (NFPA) and the American Society for Testing and Materials (ASTM).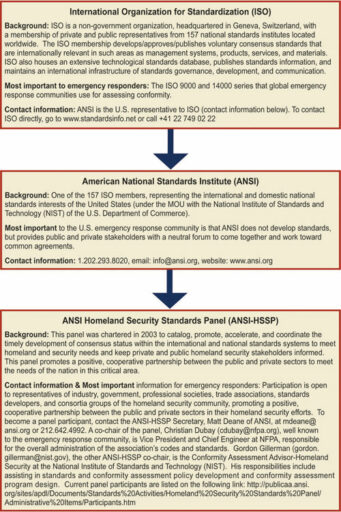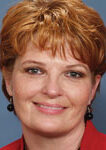 Diana Hopkins is the creator of the consulting firm "Solutions for Standards" (www.solutionsforstandards.com). She is a 12-year veteran of AOAC INTERNATIONAL and former senior director of AOAC Standards Development. Most of her work since the 2001 terrorist attacks has focused on standards development in the fields of homeland security and emergency management. In addition to being an advocate of ethics and quality in standards development, Hopkins is also a certified first responder and a recognized expert in technical administration, governance, and process development and improvement.