In general, most managers understand the flow of work within their agencies, but this may not be true of all the work-unit leaders within the agency. Staff members also may not understand how their job responsibilities affect the staff adjacent to their roles. Some standard tools are available to help leaders and staff members visualize the workflow within their agencies. Gantt charts and swimlane models are two examples that graphically represent the tasks, steps, and interdependencies within the basic business process or workflow.
Gantt Charts Gantt charts use boxes – containing as little or as much information as desired – to represent tasks. Colored outlines are one method for distinguishing different types of information – for example, red may be the units in the field, blue may be dispatch, and green may be supervision. In addition, lines link each task to other tasks that must previously occur; tasks that do not depend on each other may float. In Figure 1, the supervisor's task of "Supervisor confirms response" can occur before, concurrent with, or after the dispatch task of "Dispatch updates status – unit en route to scene."
The first step is to diagram all the tasks in the process and add the personnel responsible for each task in a later step. By asking which steps must occur before a task is accomplished, managers can map the workflow from start to finish. Afterentifying and recording the tasks, the next step is to carefully detail the work unit responsible for each task.
Gantt charts focus on the tasks and dependencies between the tasks. They allow managers toentify bottlenecks and minimize operational delays. Some examples of free Gantt chart templates include:
Swimlane Models The swimlane model is another mapping tool that relies on horizontal rows and shapes that represent each work unit and task, respectively. Lines that represent interdependencies connect these tasks. Since this graphic structure focuses on who performs each duty, it is appropriate to display staffing needs and assist decision-making when moving tasks between work units to streamline function.
In Figure 2, the supervisor has direct contact with the workflow at multiple points. This is evident in the swimlane graphic, but less easily understood in the Gantt chart. In both figures, the relationship is clear at a glance: "Unit responds & updates dispatch via radio" is dependent on "Unit dispatched," which is dependant on "Call info collected."
Although there are a number of specialized products and free online resources to help create these workflows, pencil and paper also work. Both Gantt charts and swimlane models are effective for mapping workflow,entifying bottlenecks and redundancies in the process, defining roles that are not specifically assigned to staff, and providing the agency staff perspective on how one unit's work affects the operation of the agency "downstream" from that position.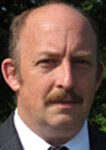 Joseph Cahill is the director of medicolegal investigations for the Massachusetts Office of the Chief Medical Examiner. He previously served as exercise and training coordinator for the Massachusetts Department of Public Health and as emergency planner in the Westchester County (N.Y.) Office of Emergency Management. He also served for five years as citywide advanced life support (ALS) coordinator for the FDNY – Bureau of EMS. Before that, he was the department's Division 6 ALS coordinator, covering the South Bronx and Harlem. He also served on the faculty of the Westchester County Community College's paramedic program and has been a frequent guest lecturer for the U.S. Secret Service, the FDNY EMS Academy, and Montefiore Hospital.