The nation has experienced unprecedented times due to the COVID-19 pandemic given the requisite need for social distancing and isolation experienced from stay-at-home orders. Daily lives were transformed. For homebound children, this was disruptive and changed daily routines. While at home, children engaged in a variety of safe and supervised activities, such as home schooling, play activities, crafts, games, etc. A side effect of social distancing is temporary physical isolation from many important influences in their lives, such as school and teachers, sports, community organizations, extended relatives, classmates, and friends.
Children are especially vulnerable to victimization, so it is critical to pay attention to the warning signs of sexual victimization and exploitation. Criminals have adapted and exploited public sentiment and vulnerabilities, such as increased availability and free time during the pandemic. The ubiquitous nature of digital systems people use to socially interact have helped children stay connected in times of isolation. It has also resulted in the increased risk of children being groomed and sexually exploited.
Practical Communication & Safety Tips for Protecting Children Online
With the spread of online Child Sexual Abuse Material and popularity of gaming applications, grooming and child sex trafficking are pervasive threats that allow predators to target children. In large part, the internet and social media are a wonderful part of the culture and, in many respects, a primary mode of communication. However, there are those who use these advances for nefarious purposes.
As the first line of defense, parents and caregivers need to be vigilant with social media and gaming applications to protect children from online predators.
Therefore, parenting must be done in a social media culture. Although seemingly logical, forbidding children to go online is not often a reasonable or realistic expectation. Children know more about using these technologies than many of their parents. Even trying hard to prevent them from using these advancements, today's children are innovative and creative. Many will find a way to get themselves online despite parents' wishes. Following are recommendations for parents:
Discuss with children (of all ages) internet safety and make them aware of the dangers posed by certain individuals who use chatrooms and social media for illicit purposes.
Manage and monitor internet use by keeping internet-connected devices in a common room or area of the house in full view and limit the use of cellphones and smartphones.
Use internet browser controls to filter inappropriate content (sexual, nudity, etc.).
Consider installing mature content-filtering software.
Never assume to know who is communicating with children, do not be reluctant to ask questions.
Talk about what type of information is appropriate to share and what is not.
Make certain children understand that any image they share will permanently remain on the internet and can be widely distributed, even when shared with a trusted friend.
Tell children to immediately report to them any inappropriate or sexually explicit conversations, parents and caregivers should then immediately report to law enforcement.
Keep communications open with older children about the dangers posed by offenders.
Encourage older children to report inappropriate conversations without being judgmental about the content of the conversations, resist the inclination to blame the child.
Warning About Online Gaming
Millions of children use online gaming platforms, so it is not surprising these platforms are plagued by online predators, who contact and groom children. Inappropriate interactions between adults and children are rampant among popular platforms. Accordingly, Roblox's SEC S-1 filing states:
The success of our business model is contingent upon our ability to provide a safe online environment for children to experience and if we are not able to continue to provide a safe environment, our business will suffer dramatically.
For younger children, parents should consider the following actions to control gaming internet access on devices:
Review and approve all games before they are downloaded.
Ensure privacy settings are set to the strictest level possible for gaming systems and devices.
Remind children to be cautious about invitations from those they do not know to join gaming chat rooms and immediately report any inappropriate conversations.
Teach kids to protect their identity and not reveal personal information.
Ensure they know how to block another player who may be aggressive or inappropriate.
Set controls and know if gaming devices post to another online platform.
Make sure children know that people they meet on gaming sites are not their friends and may not be who they say they are.
Children's online activity is not always readily apparent. The use of screen names and passwords on various social applications make it difficult if not nearly impossible to retrieve useful information, even when the child's device (smartphone, tablet, or laptop) is available. The sophistication of available countermeasures (to hide content and conversations) using encryption and anonymizers can make the task of uncovering evidence of grooming or sextortion difficult. Law enforcement agencies have availability of resources for forensic evaluations, such as the various Internet Crimes Against Children Task Forces, but this takes up valuable time.
Generally, most parents only have limited knowledge of what social media and gaming applications their children use and with whom they may be communicating. Typically, siblings and the child's closest friends have the most knowledge about such activity. They may even know the screen names and passwords the child uses to access the application or even the screen names of the offenders.
Luring, Grooming, and Sextortion
The dynamics of child abduction and the behaviors of criminal offenders have dramatically changed over the past few years. There are far fewer "stereotypical" abductions (i.e., sex offenders who violently grab children from places like street corners, near schools, or in public parks). Technological advancements – such as AMBER Alerts, cameras on streets and in public locations, smartphones (equipped with still cameras and video recorders), license plate readers, and social media – allow law enforcement to engage the public immediately when an incident occurs. These technologies coupled with an aggressive and robust response when a child is taken can all be credited with the reduction in these disturbing cases.
Despite this good news, criminals still want to harm kids. In many cases, they have simply changed the way they target and victimize kids. In other words, technology has been both good and bad when it comes to protecting the most vulnerable populations.
Parents must keep open lines of communications with their children and insist that they come to them anytime they are engaged in an inappropriate conversation – regardless the severity. Parents must resist temptations to blame the child. Instead, they must recognize that they are victims and should be treated as such.
Offenders depend on child victims remaining silent out of fear that parents, caregivers, and others will blame and discipline them for inappropriate behavior. They also depend on the child's belief that, if they do not remain silent and obedient, the contents of their conversations (along with their sexual images and videos) will be shared online.
Runaway Children
There are many reasons children run away. Regardless of the reason, the reality of running away presents serious risks the child may not realize or understand. They may be impulsive or believe they would be better off leaving home. They do not have the experience or judgment to always make a sound decision. It is important to talk to children when their behaviors change or they become withdrawn. Children do not always disclose information they are uncomfortable talking about right away. They may not know how to reveal what is troubling them, and they may look for the right time and circumstance to talk. Keeping the lines of communication open is vital. Potential warning signs that runaway children may exhibit include:
Angry or aggressive outbursts
Becoming more introverted and withdrawn from family and friends
Depression or increased anxiety
Difficulty in school – poor grades, skipping class, behavior issues
Being secretive about friends or activities
Having secret social media accounts and spending excessive time online
Being bullied
Threatening to run away or staying away from home for extended time periods
Signs of possible drug or alcohol abuse
Possessing money or expensive items
Lying and stealing
Lacking concern for themselves
Engaging in self-harming behaviors, including cutting and high-risk sexual behaviors
Questioning their sexual identity
If a child exhibits any of these indicators, parents should take the following preventative steps:
Talk to them and try to determine what is bothering them.
Be honest about changing family dynamics like divorce, financial difficulties, loss of a parent/family member, or a disruptive family environment.
Listen (rather than lecturing and being judgmental) and make every effort to develop a resolution with the child.
Be supportive – let the child know they are loved and that running away will not resolve the problem.
Seek outside resources such as family counseling, therapy, or substance abuse treatment.
Talk about the importance of protecting their identity (online and offline) and selecting friends wisely.
Get to know the people who are important to the child outside the family circle.
Put realistic rules in place and openly discuss why they are important.
If a child runs away, parents should take the following reactionary steps:
Contact law enforcement immediately, there is no waiting period to report a missing child.
Provide all pertinent information to law enforcement, including clothing, recent photo, known friends/companions, last time and place child was seen.
Do not withhold information.
Make available all wireless devices and technology available.
Provide all social media accounts/names and cellphone numbers.
Provide information about custody, including any related issues.
Provide information about changes in family dynamics or the child's behaviors.
Inform law enforcement about anyone new or showing unusual attention or interest in the child's life.
Provide law enforcement with any contacts the child has (phone, text, or in person).
Be proactive and disseminate information about the child (e.g., fliers, contacting places/people).
Stay in touch with law enforcement until the child returns and notify them of their return.
Call to Action – Parents
A whole of community approach is needed to combat child exploitation with an emphasis placed on education, training, and information sharing. Much overlap exists between these themes and should be employed by parents, caretakers, schools, law enforcement, as well as public and private entities. These six recommendations are critical for parents and caretakers to review:
Communication and teaching – Talk with children about the risk and dangers. Establish a plan with children and discuss the plan frequently – reinforce safety tips and good online choices. Remain open to dialogue with children (free of judgment) and provide a means by which they feel safe to reveal if inappropriate or suspicious contact has been made with them.
Education – Know the signs of child exploitation and abuse. Parents need to know and be able to recognize signs if one's child is in danger.
Emphasis on safety – Ensure all children's activities are done in a safe environment. Know who is involved with the children. There is no typical profile of a child molester, so always remain vigilant.
Online safety knowledge – Parents should avail themselves of the many resources and free guides available to help strengthen their child's online safety habits thereby helping to reduce exposure. The use of child protection apps to help counter the increased risks associated with increased time spent online is an option.
Planning – If a child goes missing and is a victim of child exploitation, prior preparation and planning is key. Have a plan (e.g., have a colored recent photo available of the child, know the child's height, weight, etc., know who to call, etc.).
Reporting – The most important thing is to be on the lookout for a missing child. Report any suspected incident of abuse immediately to local law enforcement agencies. Learn about the If You See Something, Say Something campaign. Contact the local FBI field office or file a report with the NCMEC at 1-800-THE LOST or online at www.cybertipline.org.
The problem of child exploitation rips at the very fabric of society not to mention the indescribable agony inflicted on the victim and parent. Child exploitation is a complex problem with many underlying causes and effects. Its prevention is no less a formidable challenge. It is one, however, that all of society must address. The front line of defense begins at home and must be reinforced by all of community. Parents play a vital role in taking a proactive approach in teaching their children about the dangers and preventive steps they can take to help improve their safety.
Additional resources not mentioned above:
Michael Breslin serves as the Director, Strategic Client Relationships, Federal Law Enforcement for LexisNexis. In this role, he supports the LexisNexis Federal Government team by managing and establishing executive relationships across the federal government. He is a retired federal law enforcement senior executive with 24 years of law enforcement and homeland security experience. He served as the deputy assistant director in the Office of Investigations, focusing on the integrated mission of investigations and protection with oversight of 162 domestic and foreign field offices. He served as the event coordinator for the National Special Security Event Papal visit to Philadelphia in September 2015 and was appointed by the Secretary of Homeland Security as the federal coordinator for the Papal Visit to the Mexico-U.S. Border in 2016. He is a Senior Executive Service member and published author of numerous articles on homeland security, defense, and threat mitigation methods. He serves on the Cyber Investigations Advisory Board of the U.S. Secret Service and is a Board Member of the National Center for Missing and Exploited Children. He also serves on the Preparedness Leadership Council. He has a B.A. from Saint John's University, Queens, NY; an M.S. in National Security Strategy and a Graduate Certificate in Business Transformation and Decision Making from The Industrial College of the Armed Forces; and an MPA from John Jay College of Criminal Justice. He also serves on the Domestic Preparedness Advisory Board.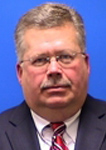 Robert (Bob) G. Lowery Jr. served as the vice president of the Missing Children Division for the National Center for Missing & Exploited Children. He currently provides training for law enforcement on behalf of the United States Department of Justice. He has over 30 years of law enforcement experience having served as the assistant chief of police for the Florissant, Missouri Police Department and commander of the Greater St. Louis Major Case Squad. He was directly responsible for homicide and violent crime investigations in the entire St. Louis Metropolitan Region. He is the author of several law enforcement publications on the topics of investigation of violent crime, homicide, unidentified human remains, abducted and missing children, and missing children with special needs.