Law enforcement and healthcare organizations – including emergency medical services (EMS), trauma centers, and other hospitals – have a common mission in active shooter attacks: saving lives. Law enforcement stops the shooter, healthcare stops the bleeding, but both must work together to ensure early access to victims and their rapid evacuation.
This article describes the importance of: (a) engaging the public in lifesaving bleeding control; and (b) promoting cross-discipline collaboration and coordination among law enforcement, EMS, trauma centers, and other hospitals. Law enforcement has made significant strides in learning how to prevent and respond to active shooter incidents, which include: adapting tactics based on prior active shooter responses, collaborating with EMS, training on hemorrhage control, and equipping officers with individual first aid kits that include tourniquets. Similarly, healthcare organizations have made substantial progress in planning and training for active shooter response, and in using evidence-based lessons learned from the military's experience in hemorrhage control that have saved lives.
An Emergent Care Solution
Severe uncontrolled bleeding can kill within minutes – potentially before trained EMS or law enforcement professionals arrive. Thus, lifesaving interventions by members of the public or of just arriving law enforcement officers may be the difference between life and death for survivors of active shooter attacks. The White House "Stop the Bleed" initiative provides the public with basic tools and information on the simple steps they can take to stop life-threatening bleeding. "Stop the Bleed" has the following goals: (a) the general public will know the phrase "Stop the Bleed" and its associated logo; (b) the general public will know how to stop life-threatening bleeding; (c) the general public will have access to effective personal bleeding control kits; (d) the general public will have access to effective public access bleeding control kits; and (e) every bleeding control kit will provide "just-in-time" audio and visual training.
Substantial efforts are underway in support of the "Stop the Bleed" initiative. For example, the Washington Post published a story that included an infographic on how to use a tourniquet. The University of Georgia has placed 240 bleeding control kits adjacent to their automatic external defibrillators (AED) on campus; the University plays a "Stop the Bleed" public service announcement featuring their team coaches and stars at their sporting events. Charlotte International Airport has installed public access bleeding control kits next to all their AEDs. Current and future leadership from law enforcement and healthcare organizations to support "Stop the Bleed" will put lifesaving tools in the hands of those who may have the best chance to save a life – the general public. Hopefully in the near future the public will have at least the same access to bleeding control kits with tourniquets as they do to AEDs in public venues.
In support of their common mission to save lives, law enforcement and EMS are planning, training, and exercising together for active shooter responses in many areas. But there is much work left to do – many jurisdictions do not train and exercise together for these events, potentially imperiling both victims and responders due to delays establishing safe victim access. Much of the focus of law enforcement and EMS on active shooter attacks has been on what happens at the scene of active shooter incidents.
Critical Triage Decisions
Deciding which victims of active shooter attacks go to which hospitals can be life or death decisions. On a daily basis, EMS cares for gunshot wound patients on the scene and during transport, and they make decisions on which trauma center or other hospital those patients should go to. Research has demonstrated that these decisions are critical – a 25-percent reduction in mortality for severely injured adult patients who received care at a Level I trauma center rather than at a non-trauma center – the key is to not overwhelm a single trauma center during a mass casualty event when other appropriate options are available.
The transport of victims from the scene of a shooting may include both the formal use of EMS transport, as well as the movement of victims by public responders in personal vehicles. More recently, law enforcement transport of injured patients has emerged as an accepted practice in some locales for daily occurring incidents. Law enforcement may be able to transport severely injured patients to hospitals faster than EMS, which may lead to better chances of survival in some circumstances because of the reduction in time from injury to lifesaving surgical intervention. At the same time, these transports usually occur outside the EMS process and without the medical knowledge that drives appropriate triage decisions. Further, they should only occur when they do not dilute the law enforcement resources necessary to ensure scene access and security.
The large numbers of victims simultaneously requiring care at a trauma center or hospital may exceed immediately available EMS transport capacity. For some active shooter incidents, there simply have not been enough ambulances on the scene that can transport enough survivors fast enough to lifesaving care. Thus, the decision by law enforcement to transport survivors from the scene to a trauma center or other hospital has clearly supported the mission – saving lives. Although this may be considered an atypical response role, such an initiative has likely saved lives.
In future events, it would not be a surprise if the demand for immediate transport of survivors to trauma centers or other hospitals exceeded the capacity of EMS. Contingency plans should be in place for these situations, which may include law enforcement, early mutual aid assignments to multi-victim shooting incidents, mass casualty transport vehicles, and even private transport. Rapid clearance of the scene is important not only to offer victims the best chance of survival but also because the safety of these scenes may be dynamic due to the risk of secondary devices and attacks. Expectations during a mass casualty incident should be clear among disciplines and good incident communications ensured.
With the already realized and future potential for active shooter attacks with large numbers of victims, it is important for law enforcement to have awareness of who does and who does not emergently need surgery at a trauma center. In a mass casualty incident, a life-threatening gunshot wound to the chest needs to go to the operating room at a trauma center; a non-life-threatening gunshot wound to the foot may be cared for, at least initially, at a non- trauma center. Having too many non-life-threatening injuries arriving at the nearest trauma center may compromise its ability to care for those who really need it. Bringing hospitals and trauma centers into the active shooter preparedness collaboration between EMS and law enforcement can help make sure the right survivors get to the right trauma center or other hospital as rapidly as possible.
Unique Requirements
Trauma centers and other hospitals also need to train on the unique requirements that mass violence events present. The operating room, equipment and supplies, and personnel resources are unique, in that many victims may need immediate surgery and may consume large quantities of resources including blood products. Secondary devices and attacks at the hospital are also possible and must be prepared for.
In addition, EMS, trauma centers, and other hospitals may be able to support training for law enforcement on how to stop life-threatening bleeding. Planning, training, and exercises for active shooter incidents that integrate all components of the response – law enforcement, EMS, trauma centers, and other hospitals – support the mission they all have in common: saving lives. Collaboration between law enforcement and healthcare may be facilitated by healthcare coalitions reaching out to law enforcement and vice versa; state and local health departments should be able to help connect local law enforcement agencies with the closest healthcare coalition.
In summary, the synergies among law enforcement, EMS, trauma centers, and other hospitals can save lives from active shooter attacks. By supporting the "Stop the Bleed" initiative, all law enforcement and healthcare organizations can provide lifesaving skills to those who may have the best chance to save a life during an active shooter incident – the general public. By planning, training, exercising, and responding together, law enforcement, EMS, trauma centers, and other hospitals will help improve survival from active shooter attacks. Opportunities to improve the chances of saving lives should not be missed. It is a joint mission.
Significant contribution to this article was made by:
Dan Hanfling, M.D., currently serves as the co-chair of the National Academies of Science, Engineering and Medicine Forum on Medical and Public Health Preparedness for Catastrophic Events, and is a special advisor within the Office of the Assistant Secretary (HHS) for Preparedness and Response (ASPR). He also is a member of the InterAgency Board, and is a practicing emergency physician at Inova Fairfax Hospital, a busy trauma center just outside of Washington, D.C.
John Hick, M.D., is a professor of emergency medicine at the University of Minnesota and is an emergency physician at Hennepin County Medical Center where he serves as Deputy Chief EMS Medical Director and Medical Director for Emergency Preparedness. He was one of the developers of the "3Echo" hostile incident response training program to integrate EMS and law enforcement responses to active shooter and blast incidents and has been involved nationally with this topic through his work with the National Academy of Medicine.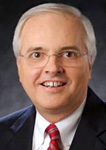 Richard C. Hunt, MD, FACEP, is senior medical advisor for the National Healthcare Preparedness Programs in the Office of the Assistant Secretary for Preparedness and Response at the U.S. Department of Health & Human Services. He was director for medical and public health preparedness and response, National Security Council Staff, The White House from 2013 to 2015. At the White House, he played a critical role in the response to the Ebola crisis and led the "Stop the Bleed" initiative. Prior to his positions in Washington, he was distinguished consultant and director of the Division of Injury Response at the Centers for Disease Control and Prevention's Injury Center. Prior to federal service, he served as professor and chair of the Department of Emergency Medicine at State University of New York Upstate Medical University in Syracuse, New York. He is a past president of the National Association of EMS Physicians. He is a diplomate of the American Board of Emergency Medicine, is an adjunct professor of emergency medicine at Emory University School of Medicine, and holds a Master of Science degree. He has authored over 60 peer-reviewed papers, multiple book chapters, and federal reports.