Tragedies have the potential to claim thousands of lives, injure thousands more, and generally cause disruption. Events such as the 2001 airplane attacks on the World Trade Center in New York, the 2013 backpack bombing at the Boston Marathon, and the major landslide that collapsed an entire street in the city of Baltimore, Maryland, in May 2014 bring these tragic incidents to the national stage. These events also increase awareness about the courage of first responders when faced with pain, as well as loss and destruction to society.
Long before disaster strikes, emergency management and public safety professionals are serving in their communities. The uniforms, badges, police cars, and fire apparatus are reminders that responders often put service before self. The calling to the public safety profession and to the role of leadership within these organizations should not be taken lightly. Professional safety standards that these people vow to uphold are surpassed only by the requirement that personnel exercise high levels of personal responsibility. The hallmark of that responsibility is to model behavior that is beyond reproach and that builds positivity in the neighborhoods they serve.
Laying a Strong Foundation
With this call to action, it becomes the duty of all personnel to be an agent for change in order to influence and design a sustainable culture of leadership consciousness within public safety organizations. "Leadership consciousness" is the awareness that there are consequences for all actions – either positively or negatively – and that public officials have the ability to influence others through the authority of his or her position. Although the authority to act in times of emergency is noble, the authority to influence a positive model within the community and throughout an agency is just as great.
Emergency management has highly trained professionals in the nation's workforce. They receive hundreds of hours of instruction to meet initial certification requirements, and countless hours of continuing education units to maintain these credentials. They are taught to exercise this training during the course of their duties, and revert to such teachings as second nature to enhance survival efforts during stressful situations. But leadership consciousness challenges these professionals to train themselves not only to effectively act in the face of danger, but to weigh the implications of their actions and behaviors. They must consider the weight of their actions and how those outcomes could potentially affect themselves, their organizations, and their communities.
Leadership consciousness requires leaders to examine their thoughts and beliefs. This process includes honesty and recognition of the visibility and impact leaders have because others model their behaviors, in reverence or rebellion, to authority. From the 2000 movie, "Remember the Titans," came the following quote, "Attitude reflects leadership." Public safety leadership is not about personnel titles within an organization, but about the effect officials have on the people they serve. Mark Sanborn, president of Sanborn & Associates Inc., stated in his 2006 book, entitled "You Don't Need a Title to Be a Leader":
"Leadership is influence…. You don't need a title to be a leader in life. And the simple fact of having a title won't make you a leader. I've found that everyone has the opportunity to lead, every day. It doesn't matter what your position is, or how long you've worked at your job…. Anyone at any level can learn to be a leader and help to shape or influence the world around them."
Instilling Honor & Respect
From the person on the front line providing emergency response services to the department head of an organization, each person has to have the consciousness to know that every move they make and every action they take is being watched, critiqued, and followed by somebody. Officials also need to realize that, by virtue of the positions they hold, the public's perception is reality.
Former police commissioner of Baltimore City, Leonard Hamm, offered in an address to a 2006 graduating of the police academy this sage advice: "Do what's right in the face of what's wrong." Actions or behaviors have the potential to defy – or exemplify – departmental policies, local ordinances, or state and federal laws. Therefore, it is important to remember and honor the oath of office, leading officials to examine their moral compasses and act in a professional manner at all times.
In the wake of massive corruption scandals throughout the country and abroad, the "face" of public safety is being smeared by the actions of a few rogue officials. With every report of an incident in which officials decide to act outside of their prescribed training and oath of office, it gives the public safety profession a "black eye" and cuts away at the fabric of society as well as at the organizations their positions were created to uphold.
Sir Robert Peele authored the "Principles of Law Enforcement" in 1829. The foundation of those nine principles still holds true today, but Principle Two resonates throughout all public safety disciplines, "The ability of the police to perform their duties is dependent upon public approval of police existence, actions, behavior and the ability of the police to secure and maintain public respect."
Respect is a vital ingredient in creating an effective public safety organization. When officials choose not to obey the laws themselves, the respect, public approval, and support that these offices are expected to garner, vanish without a trace.
Building Rapport & Awareness
The absence of internal, organizational, and community leadership was demonstrated in the aftermath of Hurricane Katrina. The inability to build rapport and create a positive working influence contributed to complete anarchy during that crisis. In the days following that historic storm, looting, violence, and other criminal activities became serious problems. The actions of people within the community trying to survive as well as those of public safety officials contributed to the disarray.
Reporter Julianne Hing wrote in a 2010 article published by Colorlines, "The New Orleans Police Department has long been synonymous with brash corruption and misconduct.… But when the storm arrived on August 29, 2005, and swept away New Orleans' lower 9th ward, it opened up a period of unchecked police aggression that shocked not just the city but the nation."
All agencies and organizations harbor their own baggage. Therefore, this is not an indictment simply on the New Orleans Police Department, but a lesson on how the failure of leadership consciousness can dismantle any agency or organization. Emergency management defines preparedness as a state of readiness to respond to a disaster, crisis, or any other type of emergency. As such, perhaps preparedness is the cognitive recognition of awareness. In addition to ensuring that the right emergency operations plan and the appropriate equipment to respond to potential threats and dangers are in place, agencies must ensure that they have people who exercise the highest level of ethical and moral behavior in the face of crisis.
In a position of such great magnitude, fiduciary responsibility, and visibility, everything matters. People may not give their behaviors or actions a second thought unless they have the potential for adverse implications or consequences. Perhaps scrutinized almost as much as the members of professional sports teams, public safety officials have a duty to represent themselves and their organizations in a professional manner every time they put on their uniforms, or engage in any way with the public.
In the end, leadership consciousness within public safety is the ability to understand that each person represents something bigger than him- or herself, and that each day these professionals carry the reputation and image of fellow colleagues on their shoulders with every action and behavior they exhibit. They should never underestimate the impact that actions and behaviors will have on other people. The message conveyed through the many works of Mahatma Gandhi resonates with the concept of leadership consciousness, "Be the change that you want to see in the world."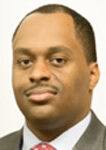 Samuel Johnson Jr. is the training and exercise coordinator for the Mayor's Office of Emergency Management in Baltimore City (Maryland). In this role, he is responsible for providing emergency preparedness training for over 5,000 public safety professionals. He has served within the city of Baltimore for over 6 years in various capacities, which include the Baltimore Police Department and Baltimore Housing. In 2015, he was recognized by Forbes magazine as one of the country's top 30 law and policy professionals under the age of 30. He completed his master's degree at the Johns Hopkins University, Public Safety Executive Leadership Program.