Recent terror attacks have demonstrated that the modus operandi for terrorists to attack innocent people is to use whatever tools can easily be obtained. Some agencies and companies may inadvertently sell or donate the very equipment terrorists use to kill people and endanger national security. This proposal offers a barrier to terrorists wishing to exploit the healthcare, public health, chemical, and pharmaceutical industries in the area of excess equipment.
A possible threat to national security involves the normal sales or donations of excess or outdated medical, laboratory, or research equipment in both the private and public sectors. These sales and donations may constitute a source of supply for terrorists or their suppliers to build improvised weapons of mass destruction in the United States or overseas. Items such as incubators, X-ray radiation sources, mixer-investors, centrifuges, and other pharmaceutical, hospital, or public health laboratory equipment could equip terrorists with tools to inflict harm.
Biomedical Equipment (Medical, Pharmacy, Laboratory & Imaging) Excess Equipment Programs
The Armed Services dispose of excess equipment through the Defense Logistics Agency (DLA) Disposition Services. The DLA Disposition Services typically attempts to redistribute excess materials to Defense Department organizations, as well as to state and local government organizations and certain nongovernmental organizations with requirements for excess property. When equipment exceeds DLA's needs, the DLA Disposition Services conducts "public sales" to organizations wishing to bid on "lots" of equipment – for example, a "lot" may consist of a pallet of computers. The specific screening or vetting process currently being conducted on persons or organizations placing bids on government property is unclear.
The private sector also must manage its excess medical equipment. Most civilian hospitals utilize medical equipment such as X-ray and laboratory equipment as financial assets on financial management records. This means that, once a piece of equipment has been fully amortized, it loses much of its identity and tracking by hospital management officials. As new equipment is purchased, plant engineers or purchasing personnel often sell the equipment being replaced with little or no scrutiny of which organizations are purchasing the equipment. In many cases, resellers purporting to be Third World relief organizations or religious/charity organizations procure excess equipment for a small fraction of the original acquisition cost. Persons or organizations with nefarious intentions could easily disguise themselves.
Recommended Solutions 
To mitigate potential threats, the government should establish a government property pre-sales vetting system, under the management of the Federal Bureau of Investigation (FBI) counterterrorism function.
Government-owned equipment – All federal and other agencies that are required to submit excess equipment to the DLA Disposition Services would continue submitting the actual excess equipment and required turn-in documentation to their local DLA Disposition Services field office. Prior to sale or donation of any government-owned equipment to a private entity, the DLA would submit the potential buyer to the FBI government property pre-sales vetting system. Once the FBI sends an approval document, the sale would proceed as normal.
It is important to note some governmental agencies or jurisdictions may not be required to dispose of excess medical equipment through DLA Disposition Services. One solution to close this gap would be for these agencies or jurisdictions to voluntarily submit excess medical equipment and potential buyers through the private sector screening process listed below.
Private sector excess equipment, voluntary participation – Before selling or donating excess equipment to external entities, nongovernmental organizations and state and local entities including universities, research laboratories, state reference laboratories, etc., would voluntarily electronically submit the name of any entity wishing to purchase excess equipment to the FBI for vetting before selling or donating the equipment. The vetting request would also include the equipment description/nomenclature, model number, and manufacturer of any biomedical equipment requiring screening prior to sale to the community or gifting to humanitarian groups or other nongovernmental organizations.
Similarly, manufacturers of chemical, radiological, biological, and pharmaceutical equipment may already have programs similar to this already in place. If not, these entities could voluntarily participate in the FBI pre-sale screening process. Examples of potential equipment requiring pre-sales FBI screening may include:
Portable and installed X-ray or CT-scan apparatus/equipment and any equipment containing a radiological source deemed traceable (subject to a determination of source strength to be tracked by radiological specialists or health physicists);
Laboratory diagnostic and biological classification equipment including incubators, centrifuges, dryers, and mixer/investors;
Pharmaceutical/chemical manufacturing and automated mixing equipment;
Biomedical equipment repair, diagnostic, and calibration equipment; and
Other equipment determined by U.S. federal agencies, including Department of Homeland Security, Department of Health and Human Services, FBI, Drug Enforcement Administration, Food and Drug Administration, Occupational Safety and Health Administration, and National Institute for Occupational Safety and Health.
The United States is in a generational struggle against terrorists who wish to disrupt and destroy the current way of life. Terrorists have shown an ability to think out-of-the box by using airplanes, pressure cookers, automobiles, trucks, and other everyday objects as instruments of destruction. Even more creativity is needed to stay a couple steps ahead of adversaries. The idea put forth in this paper serves as a reminder to always look for ways to close gaps and defeat threats before they can become attacks.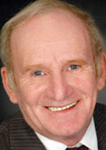 James M. Rush Sr. has over 45 years of healthcare administration and community emergency management experience in the U.S. armed forces, the U.S. public-health community, and the nation's civilian healthcare industry. He served as the Region III project officer for the National Bioterrorism Hospital Preparedness Program, and the CDC's National Pharmaceutical Stockpile, always dedicated to assisting healthcare and public health organizations prepare for "all hazards" events and incidents. He is author of, among other published works, the "Disaster Preparedness Manual for Healthcare Materials Management Professionals," and a self-published book "Unprepared."