According to the World Health Organization, "Ebola virus disease is a severe, often fatal illness in humans" and "one of the world's most virulent diseases." The Centers for Disease Control and Prevention adds that, "The 2014 Ebola outbreak is the largest in history and the first Ebola epidemic the world has ever known." Three major concerns are Ebola's mortality rate of up to 90 percent, its transmission by direct but casual contact, and the fact that there is no recognized cure. Before the current outbreak in West Africa, its ability to incapacitate and kill quickly prevented the disease from widespread contamination – in effect creating a self-quarantine.
Isolation & Quarantine Measures Transmitted through direct contact, Ebola primarily infects those who have extensive interaction with infected persons – members of victims' families and healthcare workers. The main strategies for protecting healthcare providers are the same as with most contagious diseases: personal protective equipment (PPE), proper hygiene, and public health isolation and quarantine procedures. Unfortunately, the "self-quarantine" period for the current outbreak has ended as Ebola reached a population concentration that makes it difficult to prevent the spread of the disease. At this time, Ebola still requires physical contact. However, should the virus mutate and become airborne, it could develop into an agent capable of cataclysmic devastation similar to the Black Death or the Spanish flu.
In the United States, hospital preparedness and public health grants over the past 10 years primarily have focused on:
Isolation – taking patients who are currently sick and sequestering them from others; and
Quarantine – holding people who have had contact with an infected person for the incubation period (in the case of Ebola, 2 to 21 days) for observation.
Planning for such actions often requires designation of special treatment areas to provide emergency hospital-level care that is separate from the general hospital population. These treatment areas could include accessibility to tent-based facilities or acquisition of large open inside spaces such as gyms or armories.
Such resources are critical because community hospital staff and supplies are scaled to the volume of patients that the community generates on a typical day. During an Ebola outbreak, the number of infected patients likely would overwhelm daily resources. As such, emergency medical services (EMS) must have plans and procedures that detail criteria for: dispatching EMS units to special treatment areas versus community hospitals; transporting patients; using PPE; and promoting personal and vehicle hygiene.
Adequate Protection for Healthcare Providers PPE in the medical setting involves barriers between infected persons and the provider, which include gloves, plastic suits, and respiratory protection. Although all of these resources are available on most EMS ambulances in the United States, many EMS providers use only gloves and masks during their daily routines, and typically do not don plastic suits. As such, there may be inadequate quantities of supplies when needed.
PPE supplies are a critical issue because healthcare providers who do not feel safe may stop going to work due to either illness or insecurity. Agency supplies would quickly disappear as call volumes increase and providers exhibit greater-than-normal vigilance. Most PPE is intended and designed for single use, so developing a workable plan for multipatient use in the ambulance setting is challenging. PPE is the main concern for EMS providers, so special treatment areas would need to have similar inventories as those in hospital stockrooms.
The Centers for Disease Control and Prevention's Strategic National Stockpile offers two types of inventory: (a) push packs, which are bulk shipments of medical supplies and equipment that are not specific to the scenario, but can be deployed to a scene relatively quickly; and (b) vendor-managed inventory, which optimizes supply-chain performance by having manufacturers maintain inventory levels for a specific use. Hospitals and EMS agencies, though, must sustain operations until federal assets arrive, which means rotating supplies to areas where they are needed the most.
Regional partners – if such relationships exist – also could build shared supplies. The way to build these relationships is through regularly scheduled joint meetings, planning sessions, and trainings. There is no time to waste in joining the global response to this growing threat. EMS providers must have all the necessary tools to serve their communities while protecting themselves.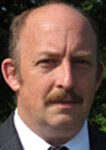 Joseph Cahill is the director of medicolegal investigations for the Massachusetts Office of the Chief Medical Examiner. He previously served as exercise and training coordinator for the Massachusetts Department of Public Health and as emergency planner in the Westchester County (N.Y.) Office of Emergency Management. He also served for five years as citywide advanced life support (ALS) coordinator for the FDNY – Bureau of EMS. Before that, he was the department's Division 6 ALS coordinator, covering the South Bronx and Harlem. He also served on the faculty of the Westchester County Community College's paramedic program and has been a frequent guest lecturer for the U.S. Secret Service, the FDNY EMS Academy, and Montefiore Hospital.