The interoperability concept is always a crucial topic when the nation's military, security, and law-enforcement agencies discuss homeland-security missions and operations. Bringing a wide range of agencies together both tactically and through communications to conduct effective and efficient security operations is one of the most important aspects of the U.S. layered-defense homeland-security strategy – one that uses a best-skills and best-capability approach to address terrorist threats both on land and across the maritime domain.
One major and particularly interesting interoperability success story has been the partnership between the National Guard's 4th WMD-CST (Weapons of Mass Destruction – Civil Support Team) and the U.S. Coast Guard. That National Guard team, one of the first ten WMD-CST units established by the Department of Defense, is under the jurisdiction of the state of Georgia's Directorate of Joint Operations. Since 2002 the 4th WMD-CST has partnered with a number of Coast Guard units, beginning with what was then Coast Guard Maritime Safety Office Savannah and Coast Guard Air Station Savannah.  
The 4th WMD-CST and its Coast Guard partners have given Georgia's Atlantic seaboard an added layer of protection from CBRNE (chemical, biological, radiological, nuclear, and explosive) weapons. The unit's commander is Lieutenant Colonel Jeffery Allen, Army National Guard (ARNG), who recently returned from the 2nd annual Nuclear, Biological, and Radiological Conference in Rieti, Italy. During the conference, Allen discussed, with the representatives of several U.S. allies, the unusual and highly successful Coast Guard-ARNG relationship, concluding his summary with his personal assessment that the two organizations "have collectively written the operational concept for the CST mission in a maritime environment."
The 4th CST and the Coast Guard Air Station Savannah have conducted numerous training missions in the past few years, Allen also reported, during which Coast Guard HH-65 helicopter aircrews would deliver a CST Strike Team "onto the deck of moving vessels both large and small." Such "vertical deliveries" use the aircraft's rescue hoist – which received considerable favorable publicity last year because of its extensive use during Hurricane Katrina in New Orleans – "to safely insert/extract CST operators and Coast Guard personnel," Allen said, "onto suspect vessels that require inspection prior to entering the Port of Savannah."  
Mission Accomplished in Savannah And During Sea Island Summit
In addition to these and other airborne operations, said Allen, who also serves as national co-chairman for the CST Equipment Technical Working Group (which makes decisions on future equipment for the CSTs), the 4th CST has responded to several requests for assistance from the Coast Guard Maritime Security Office in Savannah to accompany seaborne Coast Guard boarding parties "in searching for and identifying CBRNE materials aboard vessels attempting to enter the Port of Savannah." The successful – i.e., undetected – delivery of such materials into any U.S. port, of course, could lead to a maritime disaster of colossal magnitude.
The WMD-CST/USCG partnership has extended to working together during such National Special Security Events as the G-8 Summit held on Sea Island, Georgia, in 2004. During that event, according to Captain Jeff Daigle, ARNG, operations officer for the 4th WMD-CST, the heads of state of eight countries "and countless other dignitaries" were in temporary residence at a relatively unprotected Georgia coastal community. Behind the scenes, though, the 4th CST and Coast Guard were working together, monitoring maritime traffic and interdicting "suspect vessels" as they approached the area where the summit was being held. "This is just one example," Daigle said, of how the local ARNG/Coast Guard partnership "has enhanced our nation's security."
The Sea Island mission also serves as an important example of how the nation's first-response military and law-enforcement security agencies are seeking, finding, and often creating ways to work together both more effectively and more efficiently during an era, and in an environment, characterized by asymmetric threats and limited resources. In that context, working partnerships such as the ongoing relationship between the Coast Guard and the ARNG's 4th WMD-CST represent force multipliers which ensure that the tax-paying public receives the best return on its investment.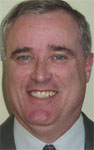 Christopher Doane and Dr. Joseph DiRenzo III are retired Coast Guard officers and visiting fellows at the Joint Forces Staff College. Both of them have written extensively on maritime security issues. Any opinions expressed in the preceding article represent their own views and are not necessarily the official views of the U.S. Coast Guard.

Dr. Joseph DiRenzo III is a retired Coast Guard officer. He's visiting fellows at the Joint Forces Staff College. He has written extensively on maritime security issues. Any opinions expressed in the preceding article represent their own views and are not necessarily the official views of the U.S. Coast Guard.