There have been 56 National Special Security Events (NSSEs) since Presidential Directive 62 designated the category in 1998, 32 of which have been hosted in Washington, D.C. The most recent NSSEs have been the 2017 Inauguration, the 2017 President's Address to the Joint Session of Congress, and the 2015 World Meeting of Families, which involved a visit to the District by Pope Francis. Local jurisdictions hosting such events must evaluate and plan for both the opportunities and challenges they may face.
Although many communities may never face an event of this scale, there are several, more-common, events that receive federal protection wherein there is a need for federal, state, and local agencies to plan and operate together to ensure the safe conduct of the event. It may include a visit by a high-profile protectee, like the Pope, or situations in which multiple heads of state are attending an event or political rally, like the Democratic and Republican National Conventions. The Secretary of Homeland Security designates an event as an NSSE, at which time the various federal agencies assume the federal coordinating roles for security, crisis management, and consequence management for planning and executing the event. NSSEs differ from other large-scale events in that they have a higher chance of being targeted by terrorism or other criminal activities that may pose a threat to protectees and the mass crowds that often surround these events.
Organization of a National Special Security Event
In accordance with Presidential Policy Directive (PPD) 15, once an event is designated an NSSE:
The United States Secret Service (USSS) is the lead federal agency for coordinating, planning, and security;
The Federal Bureau of Investigation (FBI) is the lead federal agency for intelligence, law enforcement, and overall "crisis management;" and
The Federal Emergency Management Agency (FEMA) is the lead federal agency for "consequence management."
PPD 15 does not supplant the 10th Amendment to the Constitution, so the state and in most cases the local jurisdictions still are responsible for the safety, security, response, and recovery for the event. This means that, in cities such as Washington, D.C., or New York City, the local government must plan, coordinate, and acquire all necessary resources for a successful event. It is important for local emergency planners and city officials to understand that these types of events can easily consume the resources of an entire city, so careful planning and budgeting over several months is necessary.
Operations of a National Special Security Event
NSSEs demonstrate a true unified command structure that emphasizes the need for federal, state, and local agencies to work collaboratively during all stages of planning and execution of the NSSE. In the District, the USSS and the District's emergency management have a unique opportunity to physically work together through the Multiagency Coordination (MAC) center. When possible this entity is co-located with the District's Emergency Operations Center (EOC). Operating in the same space has allows all agency's employees to work side-by-side every day, significantly strengthening working relationships and creating a fluid understanding of day-to-day coordination roles.
However, because a lack of capabilities may prevent other jurisdictions from operating this way, it is important to remember the significant challenge of establishing a cohesive unified command. This can often be overwhelming if relationships are not already established and a jurisdiction is new to handling an event of this magnitude. Although the USSS, the FBI, and FEMA descend on a local jurisdiction to organize and secure, the task of security, enforcing laws, and responding to emergencies is the inherent responsibility of the local police and emergency agencies. If an unexpected incident were to happen during an NSSE, it could present a situation where the lead federal agencies shift into support roles, so training for and exercising these scenarios prior to the NSSE is vital to the planning and preparation process.
Resources Required for a National Special Security Event
One of the most important factors for a local jurisdiction to consider when hosting an NSSE is the colossal pull on a city's resources. Depending on its capabilities, handling an NSSE can be all-consuming, and it is easy to lose perspective on the other events or day-to-day operations that require resources. During some NSSEs, jurisdictions may have the ability to shut down much of their daily operations in order to reallocate manpower and minimize the potential for other problems. However, in some cases, this may not be possible. When Pope Francis was in the District, schools were open, businesses were operating, and District agencies had to handle all of it.
The amount of manpower needed for NSSEs should not be underestimated. Local jurisdictions need to investigate what costs may or may not be covered through a federal appropriation for the event. The most successful way to be reimbursed accrued costs is through budgeting before, and accurate cost accounting for time, manpower, and equipment throughout the planning and execution of the event. Local planners should find out what contracts they have in place, for example, with companies that can provide dump trucks to block off streets or buses to be used as safe havens. Jurisdictions have the responsibility for planning for the NSSE in addition to handling the unexpected and continuing to provide its region's basic services. Hosting an NSSE presents the opportunity for a jurisdiction to be challenged as well as to strengthen its preparedness and response efforts in a high-pressure atmosphere.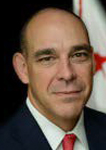 Christopher T. Geldart is currently the president of C.T. Geldart and Associates. He was the director of the District of Columbia's Homeland Security and Emergency Management Agency (HSEMA) from 2012 to 2017, where he served as the homeland security advisor and emergency manager for the District. He is the former president and chief executive officer of G2 Solutions. Prior to starting G2 Solutions, he was the vice president for homeland security and emergency management for URS Corporation. Before joining URS in February 2009, he was the Federal Emergency Management Agency's (FEMA) director of the National Capital Region Coordination Office (NCRC). Before joining FEMA in April 2007, he worked for the State of Maryland as the assistant director of the Governor's Office of Homeland Security, beginning in 2004. From 2002 to 2004, he was a program manager at Booz Allen Hamilton. From 1989 to 2001, he served in the United States Marine Corps. He has a bachelor's degree in American History from the University of Maryland.