As recent weather, wildfire, and other disasters across the nation have reminded Americans, an emergency response force prepared for mass-casualty catastrophic events is not a luxury, but a continuing necessity. For that reason, training at the Center for Domestic Preparedness (CDP) takes an all-hazards approach – which means, among other things, that the same tactics and principles used to cope with a terrorist incident can also be used in responses to natural and/or other manmade disasters.
When the CDP – located in Anniston, Alabama – was founded in 1998, it was envisioned as a resident facility that would train a maximum of 10,000 responders per year; in this fiscal year alone, though, CDP staff has already trained more than 78,000 responders from agencies and organizations throughout the United States and its territories, well exceeding the initial expectations of the late 1990s.
The CDP now develops and delivers 55 advanced training courses for emergency response providers, emergency managers, and other government officials from state, local, and tribal governments. CDP training focuses primarily on incident management, mass-casualty responses, and the host of other high-priority tasks required following a catastrophic natural disaster or terrorist act. For planning purposes, it helps considerably that the CDP training for state, local, and tribal responders is fully funded by the Federal Emergency Management Agency (FEMA), a major branch of the U.S. Department of Homeland Security.
COBRA, Toxic Chemicals, and a Noble Addition The CDP training incorporates numerous field exercises and hands-on scenarios designed to build and test response skills in settings that are as realistic as possible. A unique asset in this realistic training is the center's Chemical, Ordnance, Biological, and Radiological (COBRA) Training Facility – the only U.S. toxic chemical training site available for the nation's emergency responders. Many exercises at the COBRA facility feature civilian training in a true toxic environment, using real chemical agents.
"This training re-instills the confidence I have in my ability to respond," said Kenneth Garner, a police lieutenant from Sevierville, Tennessee. "I can take this back to the department and county to help other first responders. The CDP is an excellent tool, and more responders on the street need to take advantage of its availability."
In 2007, the CDP added the Noble Training Facility to its infrastructure by converting the former Army Noble Hospital into a state-of-the-art training site for health and medical education related to major disasters and mass-casualty events. The Noble facility now serves as the only hospital in the United States dedicated solely to training. "I have never experienced training like this," said Marci Flores, an emergency department assistant manager and registered nurse from Sacramento, California.  "This training gives me the skills, knowledge, ability, and tools that I need to be prepared … [for] a real-life incident."
To maintain and, in fact, upgrade the realism necessary for effective training, the CDP will begin remodeling the Emergency Department at Noble later this month. The renovation will bring the hospital's old Emergency Department up to par with more modern emergency rooms. The project is expected to be completed within the next several months.
"The CDP's hospital emergency department will mirror real-world emergency departments," said Rick Dickson, the center's assistant director for training education. "This renovation demonstrates our commitment to the learner's training experience. The enhancements [planned] will better serve the healthcare communities' educational needs. We are excited about the renovation – particularly the realism it will bring to our scenarios."
Experience, Teaching Ability & the Vital Signs of Professionalism Among the specific upgradings planned are: (a) the addition of a non-ambulatory patient entrance; (b) the re-designation of two hazmat patient isolation rooms and a number of nurse triage stations; and (c) the incorporation of some much-needed "vital signs" collection points. These and other upgrades, according to Mick Castillo, CDP technology integration coordinator, will further enhance the realism that makes the CDP training venues so unique. 
"Our healthcare training programs owe a good deal of their success to the realistic venues in which they operate," said Castillo. "Venue considerations are of great significance and not simply because of the obvious aesthetic improvements. We have grown to appreciate the weight our emergency responder students place on realism in an advanced hands-on training program."
Training Worth the Trip In addition to its unique facility venues, the CDP offers a broad spectrum of training in the latest medical techniques and procedures and gives responder trainees the opportunity to use a full range of state-of-the-art medical equipment during their time at Anniston. The courses offered include a number of Continuing Education Units that may be used to fulfill professional requirements. All CDP instructors are required to have at least 10 years of emergency response experience before they are even considered for a position. Qualified instructors are very carefully selected based on their professional experience, their knowledge of national response elements, and – of particular importance – their teaching ability.
"As emergency response organizations look for innovative ways to stretch training dollars, a facility like the CDP may be the answer," said Denis Campeau, director for training education. "Funded training – including [the cost of] travel, meals, lodging, and tuition – provides a unique resource for departments to prepare," he commented. "Our training venues are just that: unique – from our toxic agent facility to the hospital, we are one of a kind."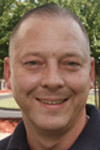 Shannon Arledge is a public affairs specialist at the FEMA Center for Domestic Preparedness in Anniston, Alabama. A retired Marine gunnery sergeant, he served in numerous public affairs/public information assignments during his 20 years on active duty, including tours of duty at Headquarters Marine Corps, the Defense Information School, and Marine Barracks Washington. He deployed twice to the Persian Gulf – in support of Operations Enduring Freedom and Iraqi Freedom – as Public Affairs Chief for Marine Forces U.S. Central Command (Forward) and Public Affairs Chief for the 2nd Marine Aircraft Wing. A graduate of the Defense Information School for Public Affairs and Visual Information, he also has a Bachelor of Science degree in Management from the University of Phoenix.