An Article Out Loud Flashback from the Domestic Preparedness Journal, August 15, 2018.
In 2017, the National Weather Service reported 107 fatalities across the United States related to heat – more than the deaths related to tornados, hurricanes, and cold weather combined. In 2021, that number was 190. Revisit this 2018 article to learn how New York has been helping local emergency management agencies work closely with the National Weather Service and other agencies and organizations to monitor extreme heat and related threats that can affect local communities.
Narrated by Randy Vivian.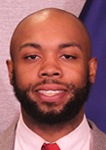 Tashawn Brown is the press assistant at the New York City Emergency Management Department, where he has responded to various disasters and emergencies. As press assistant, he assists the press secretary and deputy press secretary in day-to-day press operations and serves as one of the agency's spokespersons, helping to develop and distribute information to the news media. He has been at the forefront of expanding the reach of New York City Emergency Management, connecting with relevant academic and trade publications to promote agency content. Prior to joining NYC Emergency Management, he worked as a research analyst at The City of New York, Mayor's Office of Media and Research Analysis. The author can be reached at (718) 422-4888.